Tim Rogers Appointed Head Football Coach
February 28, 2005
February 28, 2005, Greencastle, Ind. - Tim Rogers, who was offensive coordinator and quarterback coach at Cornell University last season after serving the previous six years as the head coach at Kalamazoo College, has been named DePauw University's new head football coach. Rogers succeeds Bill Lynch, who resigned January 31 to become assistant head coach/offensive coordinator/tight ends coach at Indiana University.
"Tim Rogers is a highly respected and well-liked coach and I'm thrilled that he's coming to DePauw," says director of athletics Page Cotton. "The strong tradition of highly competitive football teams that value scholarship as well as athletic excellence is in very good hands."
"It's a tribute to the reputation of our University and football program that we received many applications from successful coaches from across the nation after Coach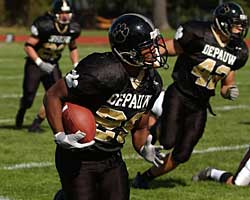 Lynch's sudden departure," adds James Lincoln, vice president for student services, who, along with Cotton, headed the search for a new coach. "We emerged with four strong finalists and Tim was our first choice. That we were able to procure a person of Tim Rogers' reputation and character in less than a month's time ensures that our team won't skip a beat as it finishes its recruiting season and prepares for the fall."
"Being at Cornell and coaching in the Ivy League was always a goal of mine, and it takes something very special for me to leave," Rogers says. "Coaching at DePauw is another lifelong ambition. I've always envisioned myself coaching at a Division III program with the facilities and commitment to compete at the national level and that describes DePauw. I'm accepting one of the nation's best Division III coaching jobs and I'm excited to get started."
Tim Rogers compiled a record of 28-28 at Kalamazoo. He served as Kalamazoo's defensive coordinator and coached linebackers and defensive ends before taking over the head coaching duties. In 2000, Rogers' led the Hornets to a 5-4 record, the team's best finish since 1993. In 2003, Rogers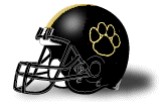 led the Hornets to their first six-win season since 1993. In 2002, the team ranked nationally in total offense (27th, 420 yards per game), passing offense (12th, 298 ypg.) and scoring offense (32nd, 33.5 points per game). Two players also ranked among the nation's best, earning a spot among the best in total offense (eighth, 299 ypg.), pass efficiency (12th, 151 rating), receiving yards (12th, 108 ypg.) and receptions per game (14th, 7.5 ypg.)
During Rogers' tenure as defensive coordinator, 21 Hornet defensive players were named to the All-Michigan Intercollegiate Athletic Association first, second or honorable mention squads. Rogers has coached two MIAA defensive MVPs (1999

and 2001), and also sent the first two Hornets to the Aztec Bowl (Division III All-Star game vs. Mexico).
A Chicago native, Rogers served as a graduate assistant at Eastern Michigan University prior to his stint at Kalamazoo. Rogers earned a master's degree from EMU in physical education in 1993. He coached the receivers and helped develop the EMU passing attack and was also responsible for recruiting in the Chicago area and assisted with off-season conditioning.
Rogers served as running backs coach at Moraine Valley (Ill.) Community College in 1992, and he was interim defensive backs coach at the University of Nevada-Las Vegas in 1991. From 1988-90, he was a varsity assistant coach at his alma mater, Chicago's De La Salle High School.
Rogers lettered in four seasons as a defensive back at Beloit (Wis.) College. He earned a bachelor's degree in 1988 and was selected to the All-Sigma Chi National Football Team as a senior.
The new coach inherits a DePauw team that was 8-2 in 2004 and will return 16 starters in the fall. Rogers becomes only DePauw's tenth head coach in the past 75 seasons.
Visit the DePauw football program's Web page by clicking here.
Back