Pre-Order Your 2005 DePauw Commencement DVD Today
March 3, 2005
Order Your Commencement DVD Here; Visit Commencement Web Site
March 3, 2005, Greencastle, Ind. - A high quality keepsake of a day to remember -- a DVD of DePauw University's 166th annual commencement ceremony -- is now available for pre-order. For a fourth year, DePauw is teaming with Sony Digital Disc Manufacturing to produce a disc that will allow DePauw University's Class of 2005 and their parents and friends to cherish and relive their commencement memories for years to come on today's most popular, high-quality digital video format. In addition to providing crystal-clear video and sound, the DVD will allow users to instantly access particular scenes, including a direct link to each letter of the alphabet as the names of graduates are called. The discs are available for $25 for the first copy, and $10 for each additional copy being sent to the same address. You can access an online order page by clicking here.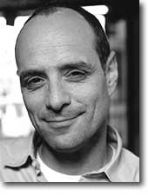 DePauw's 166th annual commencement ceremony will take place Sunday, May 22, and will feature a speech by Eric Schlosser (seen at right), author of the national bestseller Fast Food Nation (read more here).
"We've had terrific feedback from graduates and their parents since we began producing the discs," says Ken Owen, director of media relations and a 1982 graduate of DePauw. "DePauw was among the first colleges in the nation to offer a commencement DVD. Other colleges and universities charge as much as $75 per disc, and I think it's terrific that a small university can provide this high quality product at an affordable price, especially if graduates order multiple copies for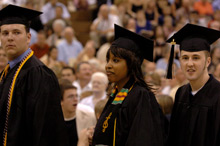 other family members."
The DVD's menu will allow you to very quickly find the spot in the program you want to see. If your last name is Jones, for instance, and you click on the letter 'J' in the menu, you're immediately taken to the first person whose last name begins with the letter 'J' receiving his or her diploma. In addition to providing instant access, DVDs are much more durable than video cassettes and should provide a lifetime of enjoyment.
This marks the eighth DVD that DePauw has produced -- the 2001, 2002 & 2003 commencements and the last four Monon Bell
Classics received the digital treatment. The discs are mastered by Owen and professionally replicated in limited quantities by Sony Digital Disc Manufacturing. Read more about the Monon Bell discs and access an online order form by clicking here.
The May 22 ceremony is scheduled to begin at 1 p.m. on East College lawn. If the weather is inclement, the event will be moved inside to the Lilly Center.
Back