United Methodist Bishop William Willimon Discusses Spiritual Life of Today's Students and DePauw's "Gift" in Mendenhall Lecture
March 8, 2005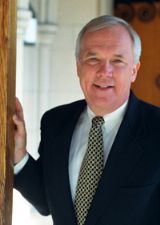 March 8, 2005, Greencastle, Ind. -

[Download Audio: "The Role" - 84kb] "The University is not dedicated to the life of the mind. It's dedicated to the life," Bishop William Willimon, the Episcopal leader of the North Alabama Conference of the United Methodist Church, said tonight. Willimon, one of the nation's top Methodist theologians, delivered DePauw University's spring Mendenhall Lecture at Gobin Memorial United Methodist Church, discussing "DePauw: Being a University in Light of the Trinity."

[Download Audio: "Today's College Students" - 472kb] "I think we've got a generation of students, many of whom -- to me, the best and the brightest -- are yearning for a deeper, richer, sort of post-modern way of thinking about the world than has been previously offered to them," said Willimon. "Spirituality is big on most campuses that I know about, not simply because kids are more conservative or into religion, but I think kids are rebelling against a very limited way of living in the world and know that's not enough."
The author of 50 books and more than 600 articles, Willimon was named one of the "Twelve Most Effective Preachers" in the English-speaking world in an international survey conducted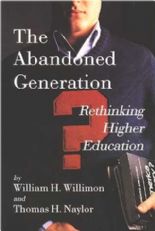 by Baylor University.

[Download Audio: "Revelation" - 761kb] "The Trinity is gift. And I think, in the modern university, knowledge has become an achievement. It's become a product," asserted Willimon, who served 20 years as professor of christian ministry and dean of the chapel at Duke University. "We have been called 'knowledge factories,' 'repositories of data.' Well, the Trinity is an affirmation that we could not know God if God would not give God's self to us. That you don't know anything about God that doesn't come to you as grace, as gift. Nor do you know anything about yourself that is not also gift. That is a thought that I find is against most theories of knowledge in the modern world. In other words, revelation; that some of the best things you think are things that were given to you -- were insights that you did not simply build on your experience and develop but came to you as inspiration."
The bishop continued,

[Download Audio: "The Need to Control" - 627kb] "Most of our theories of knowledge are based on the need to control. And you come here to get a bunch of knowledge so that you'll be able to control the world... work the world. We're working on a difficult mathematical problem and finally we say 'I got it'... The Trinity is an affirmation that -- it gets you. You have been grasped by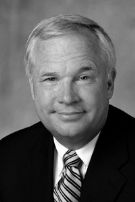 something larger than yourself and more dynamic; that somehow truth has a face on it... truth has reached out to you and embraced you."
Willimon, who last spoke at DePauw in 1987, says the University -- with its small class sizes, residential campus and liberal arts curriculum -- embraces important principles.

[Download Audio: "On Education" - 462kb] "I think DePauw is the basic form of undergraduate higher education in America. And it's sad that there are people out there building universities that think you can pile 20,000 adolescents on top of each other and give them a maximum amount of alcohol and a minimum amount of adult interaction and that will lead to higher education. This is a prejudiced Christian comment, but I just think that's nuts, that's pedogogically stupid, aside from what it says about your view of human beings."
In conclusion, Bishop Willimon told the students, faculty, adminstrators and local residents gathered in Gobin Church,

[Download Audio: "Grace" - 238kb] "I think for many people here tonight a place like DePauw is loved as a gift. Because here you are given a more interesting
life than you would have had if you had been left to your own devices. We have a name for it, and it's called grace."
The Mendenhall Lectures, which were inaugurated in 1913, were endowed by the Reverend Doctor Marmaduke H. Mendenhall. His desire was to enable the University to bring to campus "persons of high and wide repute, of broad and varied scholarship" to address issues related to the academic dialogue concerning Christianity. Although Mendenhall was a pastor in the North Indiana Annual Conference of what was then called the Methodist Episcopal Church, one of the parents of the United Methodist Church, he explicity dictated that lectures be selected without regard to denominational divisions. The endowment has allowed DePauw to bring theological and religious scholars of international repute to campus for nearly a century. DePauw, ranked in the top tier of America's national liberal arts colleges by U.S. News & World Report (read more here), was founded in 1837 by the United Methodist Church.
Back