David Hollander '87 Wins Golden Apple Award
March 11, 2005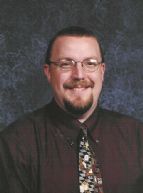 March 11, 2005, Greencastle, Ind. - "I promised I wasn't going to cry," David Hollander -- a teacher at Kennedy Junior High School in Lisle, Illinois, and 1987 graduate of DePauw University -- told the Chicago Tribune "as he removed his glasses, wiped away tears and braced himself against a wall behind him. He was one of 10 Chicago-area educators recognized for excellence in teaching and dedication to students. Six teachers were recognized Wednesday by the Golden Apple Foundation, and the remaining four were surprised Thursday," the newspaper's Grace Aduroja writes.
"Hollander's 8th-graders squealed when organizers announced that he would not only get a basket of apples -- with a golden one on top -- but, like other honorees, would receive a computer, $2,500 and a tuition-free sabbatical at Northwestern University," the story continues. "Hollander's interactive teaching style is one that his colleagues emulate. Louise Huffman, the school's other Golden Apple recipient, uses some of his popular
games and techniques in her classroom: selling baseballs to teach students about supply and demand; dividing students into groups and giving them tokens to explain how power can be abused by those in government. 'He teaches kids; he doesn't teach a subject,' said Huffman, who received the award in 2002."
Hollander and the other winners will be honored at a 20th anniversary awards ceremony on May 7 at the Sheraton Chicago Hotel & Towers, which subsequently will be aired as a one-hour prime-time special on WTTW/Channel 11.
The Tribune notes, "Outside the classroom, teacher David Hollander is known for his acting ability. He has performed in community plays and starred in productions at his Naperville church. At Kennedy Junior High School in Lisle, where Hollander has taught for 14 years, he's been known to don period costumes that make his history lessons especially
memorable. And it's almost expected that his students will become part of the charade. 'His class is his stage,' said Laury Hartman, whose daughter is in Hollander's class. 'He engages his kids, and they become part of the action.'"
Read the complete text at the newspaper's Web site (a free registration is required).
Access a previous story on David Hollander by clicking here. Visit the Golden Apple Foundation online here.
Back