Chicago Tribune's David Greising '82 Writes of Latest Bestseller by James B. Stewart '73
March 15, 2005
March 15, 2005, Greencastle, Ind. - "Nobody ever said life near the throne of the Magic Kingdom was a fairly tale. Now, thanks to James B. Stewart's new book, DisneyWar, we know what it really is: a Tower of Terror," writes David Greising, chief business correspondent for the Chicago Tribune and 1982 graduate of DePauw University of the new book by Stewart, a 1973 alumnus of DePauw.
Stewart gets deep inside the Eisner empire -- so deep, in fact, that in the book's prologue he offers a sweaty, klutzy, first-person account of an afternoon inside a Goofy costume at Walt Disney World. It is the one heartwarming moment in the book," Greising writes. "The rest is a tale of corporate intrigue and back-stabbing, of Eisner's larger-than-life ego and an almost mythic refusal to anoint a successor. Stewart evenhandedly depicts the thrilling ups and scalding downs of Disney's business performance. And in the book's final act, he chronicles the struggle between Eisner and Roy Disney, nephew of founder Walt, for control of the Disney empire and custody of the company's soul."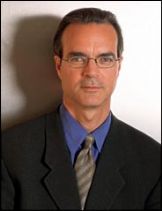 Greising points out, "Stewart was not just any curious author. He won the Pulitzer Prize for his Wall Street Journal coverage of the 1980s insider-trading scandals. His book on those times, Den of Thieves, is a landmark in business journalism. And Stewart's dissection of the Clintons' Whitewater escapade, Blood Sport, is a showcase of dogged investigative reporting. (Stewart and I have served together as trustees of DePauw University, our alma mater, where he succeeded former Disney theme parks Chairman Judson Green as chairman of DePauw's board of trustees.)"
Access the complete text at the Tribune's Web site (a free registration is required).
James B. Stewart recently appeared on MSNBC's Hardball to discuss DisneyWar, which hit No. 5 on the New York Times nonfiction list Sunday. Read more, and access video clips, here. Stewart is also quoted in a United Press International examination of Disney's selection of president and chief operating officer Robert Iger to succeed chairman Michael Eisner. Stewart is quoted as saying: "continuity at Disney right now is a two-edged sword. Pat Nason writes, "James B.Stewart, author of the current best seller DisneyWar, told United Press International that Disney is in need of a creative revival. 'The status quo is not satisfactory,' he said. Stewart pointed out that the company is nearing the end of an enormously profitable relationship with Pixar Animation Studios and has nothing in the pipeline to replace the revenue stream that was generated by such Pixar hits as Toy Story and Finding Nemo. He also said Disney's live-action film operation has been faltering lately. Continuity will also mean that Iger has to contend with dissident shareholders, led by

Roy Disney and Stanley Gold, who are unlikely to be any happier with Iger's leadership than they have been with Eisner's. 'Iger is the one choice that keeps the war going,' said Stewart.'It's hard for me to see how the directors would feel that it's in Disney's interest to keep the status quo going.'" Read more here.
David Greising (pictured at left), a former Atlanta bureau chief for Business Week magazine, is the author of I'd Like the World to Buy a Coke: The Life and Leadership of Roberto Goizueta, and has been named Chicago's "Best News Columnist." Read more by clicking here.
Back