2005 Relay For Life Set for April 30-May 1
March 17, 2005
Register a Team/Make a Donation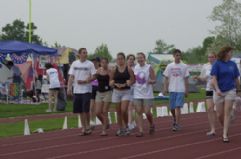 March 17, 2005, Greencastle, Ind. - There's a sure sign that Greencastle will soon welcome spring. The DePauw University campus and surrounding communities are preparing for 2005 Putnam County Relay For Life, the oldest college-run Relay in the United States, which will take place April 30-May 1 at DePauw's Blackstock Stadium. The 24-hour-long fundraiser for the American Cancer Society was initiated at DePauw in 1997 and has set new records each year.
"It's an awesome challenge, but one the campus community rises to meet every year and I'm confident 2005 will be no exception," says DePauw senior and Relay For Life chair Lee Anne McKelvey. "We're off to a terrific start, yet we know beating last year's total will take a lot of work."
Putnam County Relay For Life raised a record $208,735 last spring, and has seen phenomenal growth over the years. In 1998, the event raised $20,000. The 1999 total of approximately $30,000 was eclipsed by 2000's $42,000. Then, 2001 brought in $80,000, followed by $127,000 in 2002 and more than $162,000 in 2003.
A record-setting 1,385 walkers representing 124 teams from the DePauw and Putnam County communities took part in the 2004 event. The goal this year is to boost the total to 130 teams, and already 100 are signed up. You can register for the event, make a pledge, and see a running total of dollars committed online so far by clicking here.
McKelvey lost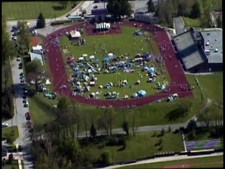 her mother to cancer and says the Relay is a time to remember those whose lives have been claimed by the disease and to raise funds that will hopefully someday eradicate cancer. "It's my way of continuing the fight for her, even though she's not still here, and for the will of others who are affected by it," McKelvey says. "It's also a very special day of goodwill when the campus and local communities join together and send a message to the world that DePauw and Putnam County care. We leave the stadium after 24 hours with new friends and the knowledge that we've done something positive for others -- something that could change to course of lives."
Putnam County Relay For Life is consistently ranked among the top college-run Relays in the nation in terms of participation and dollars raised. The 2004 event received the All-American Relay Award and was ranked 6th in the nation in money raised per capita, based on the local population. The American Cancer Society's Great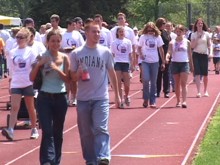 Lakes Division awarded the 2003 Putnam County Relay its Heart of Relay Award for Diversity, which recognizes excellence in efforts to encourage participation by all members of the community. Putnam County Relay For Life was awarded the 2002 Heart of Relay Award for the Great Lakes Division, and the year before won the National Heart of Relay Award as the best college or university Relay in the USA.
You can get a flavor of what Relay For Life is all about in a video created by Chris Newton '85 of DePauw's Pulliam Center for Contemporary Media. Clips are accessible (along with even more information) in this previous story.
(top photo by Marilyn E. Culler)
Back