PR Week Story on First Amendment Fight in Maryland Quotes Prof. Jeff McCall '76
March 17, 2005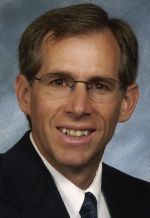 March 17, 2005, Greencastle, Ind. - A PR Week story on a federal judge's ruling, upholding the governor of Maryland's ban on two Baltimore Sun reporters, includes the analysis of a DePauw University professor. Governor Robert Erlich barred state employees from talking with the two journalists, claiming the reporters' coverage had been inaccurate. The Sun filed a lawsuit, arguing the governor's edict violated the newspaper's First Amendment rights, but a federal court rejected the argument and let the ban stand.
Erica Iacono writes, "Dr. Jeff McCall, professor of communication at DePauw University, believes the Sun might have made a mistake by pushing the issue." McCall, a 1976 graduate of DePauw, tells the magazine: "The message this sends to other government officials is... 'If you've got reporters you don't like talking to, go ahead and freeze them out. And you've got a legal basis to do it."
Access PR Week online by clicking here (the story is only available to paid subscribers).
Yesterday, the Indianapolis Star published an op-ed by Jeff McCall on the Federal Communications Commission and its "random rationale for not wanting to pursue indecency from broadcast to cable and satellite." Read more by clicking here.
Another opinion piece by the professor, published last month, discussed the case in Maryland. Read more here.
Source: PR Week
Back