Alumni in Four Cities Invited to Meet James B. Stewart '73, Author of DisneyWar
March 18, 2005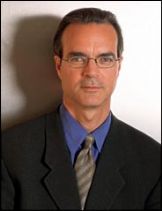 March 18, 2005, Greencastle, Ind. - His latest book is near the top of the nation's bestseller lists, now DePauw University alumni in four cities will have the opportunity to meet DisneyWar author James B. Stewart Jr. A 1973 graduate of DePauw and chair of the University's Board of Trustees, Stewart will embark upon a national book tour for his latest project, which USA Today calls a "page turner," one of a number of rave reviews the work has received. Stewart told NBC's Today Show that DisneyWar "is a morality tale just like many of the Disney classics, and it remains to be seen whether good triumphs over evil. But, in fact, the happiest place on Earth is not very happy. It's a Machiavellian, ruthless climate where people who, at their greatest points of success, are often fired" (read more here).
Booksigning dates and sites include:
Thursday, March 24 - New York City
7 p.m., Barnes & Noble, Lincoln Triangle, 1972 Broadway (at 66th St.) Free event.
Tuesday, March 29 - Sarasota, Fla.
11:30 a.m., Palm Literary Society Luncheon, Michael's - East Ballroom. Tickets required. Call (941) 329-2604.
Wednesday, March 30 - Ft. Worth, Texas
12 p.m., InterStar Fort Worth Club, luncheon. Open to the public; tickets required. Call (817) 332-6522.
Thursday, March 31 - Dallas
6 p.m., Dallas World Affairs Council, Hotel Crescent Court, 400 Crescent Court Blvd. Open to the public; tickets required. Call (214) 965-8400.
View a complete, up-to-date schedule of alumni events on the DePauw Alumni Relations Web site.
James B. Stewart -- the Pulitzer Prize-winning former front page editor of the Wall Street Journal and author of Den of Thieves, Blind Eye, Blood Sport and Heart of a Soldier: A Story of Love, Heroism, and September 11th -- appeared on MSNBC's Hardball February 16 to discuss DisneyWar. Access a story that includes video clips from that program here.
Back