Prof. Ted Rueter's Advice to Democrats: Forget Kerry in 2008
March 25, 2005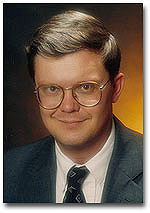 March 25, 2005, Greencastle, Ind. - "The 2008 presidential campaign has begun. Dozens of prospective candidates are already plotting strategy, raising money and traveling to Iowa and New Hampshire," writes Ted Rueter, assistant professor of political science at DePauw University, in today's edition of Bloomington, Indiana's Herald-Times. "I have a message for the national Democratic Party: If you intend to win the 2008 election, do not give your presidential nomination to John Kerry. The junior senator from Massachusetts comes across as an aloof, condescending rich guy with a slim legislative record and a tempestuous wife. And he's threatening to run again."
The professor's op-ed continues, "John Kerry turned a perfectly winnable 2004 race into another Democratic defeat... Kerry's biggest mistake was to run as a Vietnam War hero, 'reporting for duty.' Kerry continually harped on the supposed unfitness of George W. Bush and Dick Cheney to serve. At a midnight rally in Springfield, Ohio, immediately following the Republican convention, Kerry's central theme was that Dick Cheney's five student deferments somehow made him unfit to be vice president. However, there is little evidence that the
public cares. The country voted for Bill Clinton, a draft dodger, over Sen. Bob Dole, a genuine war hero. President Reagan met his military obligation by hanging out in Hollywood studios."
Dr. Rueter accuses Kerry of having a "tin ear. He reportedly told confidantes that he couldn't believe the American public would be interested in the advertisements of 'Swift Boat Veterans for Truth.' In addition, Kerry never offered any meaningful response to the Republican drumbeat that he is a 'flip-flopper'... Also, Kerry does not relate well to ordinary citizens. He grew up in Switzerland, speaks fluent French, has married two extremely wealthy women, and has five mansions and a butler. Instead of bowling or softball or clearing brush, his hobbies are windsurfing, snowboarding and stunt flying."
Rueter has authored ten books, including, 449 Stupid Things Democrats Have Said, 449 Stupid Things Republicans Have Said, and The Politics of Race: African-Americans and the Political System. In summary, he writes, "To win in 2008,
the Democratic Party needs a presidential candidate who is likable and pleasant, with a solid record of accomplishment. It needs a candidate who can relate to average voters. It needs a candidate who will focus on the issues that people care about. And that candidate is not John Kerry."
Access the complete text at College News.org.
Read about Ted Rueter's other recent opinion columns here and here.
Source: Bloomington (Ind.) Herald-Times
Back