Indiana's Voter ID Bill "Embarrassment" to GOP and State, Writes Prof. Ken Bode
March 25, 2005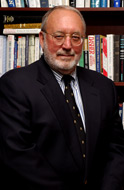 March 25, 2005, Greencastle, Ind. - "Secretary of State Todd Rokita and his legislative allies have unleashed their mighty swords to solve a non-existent problem," writes Ken Bode of a Republican-sponsored bill that would require people to have a photo ID to vote. Bode, Eugene S. Pulliam Distinguished Visiting Professor of Journalism, takes issue with the legislation --which has been approved by lawmakers and awaits the signature of the governor -- in today's Indianapolis Star .
"Indiana does have a fraud problem, but it has to do with absentee voting, where no photo ID would be required under this legislation," Dr. Bode asserts. "When ID supporters are asked what problem they are solving, they can't point to one. As Julia Vaughn of Common Cause pointed out, 'Not a single case of in-person voting fraud has been prosecuted in Indiana in recent history.'"
The professor and former senior political analyst for CNN continues, "This gives rise to the reasonable suspicion that Rokita and his allies are involved in the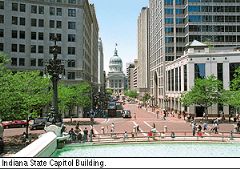 common practice of Republicans around the country: voter suppression, aimed primarily at minority voters... How could you possibly think this is racial? Ask the Hoosier Republicans pushing the ID requirement. In Georgia, where GOP legislative majorities are pushing the same requirement, they plead the same innocence. But, like Indiana, there has not been a single case of voter misrepresentation in Georgia for the last five years. If they can't prove there is a problem of in-person voter abuse -- and they have not, either in Georgia or Indiana -- how can you think it is anything but a standard, race-based GOP voter suppression program?"
Professor Bode concludes by stating Indiana Governor "Mitch Daniels has a long history in Republican politics. He ran the GOP Senate Campaign Committee and served as President Reagan's White House political director. Never has there been a single instance where his hands have been sullied by involvement in schemes to suppress minority voters. The voter ID bill sponsored by Rokita and his GOP allies in the Indiana legislature is an embarrassment to the Republican Party and the state of Indiana. Mitch Daniels must think there was a more

serious purpose in his running for governor. When this bill reaches his desk, it would be a giant public service to veto it."
Read the entire column at College News.org.
Other recent columns by Ken Bode, who will be inducted into the Indiana Journalism Hall of Fame in April (read more here), can be accessed here, here, here, here,here, here, here,here, here, and here.
Source: Indianapolis Star
Back