Skeptic Magazine Publisher Michael Shermer On Campus April 6
April 1, 2005
April 1, 2005, Greencastle, Ind. - Michael Shermer, director of the Skeptics Society and publisher of Skeptic magazine, will come to the DePauw University campus on Wednesday, April 6 to deliver two public lectures. Shermer will discuss "Why People Believe Weird Things" at 4:15 p.m. in the auditorium of the Julian Science and Mathematics Center. Then at 8 p.m., he will speak on "The Science of Good and Evil: Why People Cheat, Gossip, Care, Share and Follow the Golden Rule" in the Walden Inn Social Center. Both events are free and open to the public.
Dr. Shermer also writes a monthly column for Scientific American, hosts the Skeptics Distinguished Science Lecture Series at the California Institute of Technology (Caltech), and co-hosted and produced the 13-hour Family Channel television series, Exploring the Unknown. He's also the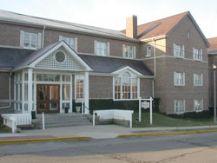 author of several books, including Science Friction: Where the Known Meets the Unknown and Why People Believe Weird Things. The late Stephen Jay Gould called Shermer "an important figure in American public life."
Michael Shermer received his B.A. in psychology from Pepperdine University, M.A. in experimental psychology from California State University, Fullerton, and his Ph.D. in the history of science from Claremont Graduate University. While at DePauw, he will also visit several classes.
Back