Do the Time Warp! -- The Rocky Horror Show Concludes DePauw Theatre's Season
April 9, 2005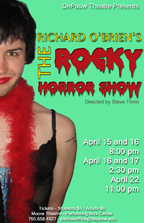 April 9, 2005, Greencastle, Ind. - The Rocky Horror Show, Richard O'Brien's rock-and-roll stage musical that launched the midnight movie phenomenon, is the final production of DePauw Theatre's 2004-2005 season. Regular performances are scheduled for April 15 at 8 p.m., April 16 at 2:30 p.m. and 8 p.m., and April 17 at 2:30 p.m. An encore performance for enthusiasts is scheduled for April 22 at 11 p.m. And, yes, audience participation is encouraged.
A spoof of science fiction and horror genres, The Rocky Horror Show tells the story of newly engaged young couple, Brad and Janet, whose car breaks down one dark and stormy night. In search of help, they discover the castle of Dr. Frank-n-Furter, a "transvestite from Transylvania," who is giving a party to celebrate his newest creation, Rocky. What transpires is a wild ride as Brad and Janet are forced to survive the scheming of the diabolical Riff-Raff, his incestuous sister Magenta, the rock-n-roll tap-dancing groupie Columbia, a host of Transylvanians and the "mad" Dr. Frank who is determined to alter forever the sexual psyches of these innocent, middle American kids.
With book, music and lyrics by British actor Richard O'Brien, The Rocky Horror Show opened in London at the Royal Court Theatre Upstairs as a six-week workshop project in June 1973. The show received such acclaim in the 60-seat theatre that it was quickly moved
to larger quarters ultimately earning the London Evening Standard's award for Best Musical of 1973.
In the United States, the production opened in Los Angeles in March 1974 and played to packed houses for nine months. The Broadway premiere, planned to coincide with and capitalize on the 1975 release of the film, The Rocky Horror Picture Show, was a critical failure and closed after 45 performances. The film was similarly unsuccessful -- a box office flop -- until midnight screenings and outlandish audience participation turned it into a legend. A 2000 Broadway revival of the musical billed by the New York Daily News as "good, wholesome filth," was a smashing success running for nearly a year and earning Drama Desk and Tony Award nominations for Best Revival of a Musical.
"The Rocky Horror Show debuted in an era when attitudes toward sexual freedom and experimentation were far different than they are today," explains DePauw communication and theatre professor Steve Timm, director of the production. "Our contemporary production is timely given the current conservative legislative impetus toward a traditional definition of male/female commitment. I'm confident that those who have been pushing that agenda of late would approve of the message of this theatrical morality play. Without giving the ending away, it's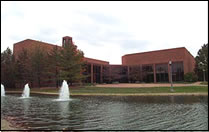 safe to say that crime and deviance are punished, that the ruling society's values triumph, and that the current, popular sense of morality is enforced on and beyond our own small planet."
Tickets are $3 for students and $6 for adults and can be purchased at the Performing Arts Center Box Office. Reservations and information may be obtained by sending an e-mail here or by calling (765) 658-4827. The production contains adult language and situations and is strongly recommended for mature audiences only.
Back