Prof. James Beckel's String Quartet No. 1 Has World Premiere
April 4, 2005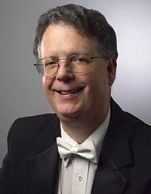 April 4, 2005, Greencastle, Ind. - "An Indianapolis composer marks a milestone in his career this week with the debut of his first chamber music for strings," begins an Indianapolis Star story on James Beckel, adjunct professor of music at DePauw University. Beckel's composition, String Quartet No. 1, receives its world premiere tonight at the University of Indianapolis. "I'm hoping before I die that I can have an opportunity to write a symphony," Beckel tells the newspaper. "For me, a string quartet is another step along the way."
Whitney Smith writes, "Beckel, who has been the Indianapolis Symphony Orchestra's first-chair trombonist for 35 years, said he never played a string instrument, 'but I've listened to them all my adult life, and spent time studying scores. I also have a luxury every time I write a piece that most people don't, and that's going to one of my friends in the orchestra'... Beckel describes the quick opening movement as 'cute,' the slower second movement as 'meaty' and 'more on the mournful side' and the finale as

bluesy. He said the second movement was written with thoughts of Sept. 11, 2001, and the finale was meant to showcase Franke's finesse with jazz."
Read the complete story at the Star's Web site. Jim Beckel's Liberty for All has become a staple at musical events celebrating America's Independence Day. Find out more in this previous story.
Source: Indianapolis Star
Back