Prof. Ken Bode Named Corporation for Public Broadcasting Ombudsman
April 5, 2005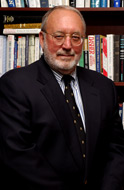 April 5, 2005, Greencastle, Ind. - Ken Bode, Eugene S. Pulliam Distinguished Visiting Professor of Journalism at DePauw University, and William Schulz, former executive editor of Reader's Digest, have been appointed to newly created positions as Corporation for Public Broadcasting (CPB) ombudsmen. In addition to his new responsibilities, Dr. Bode will continue in his role at DePauw.
A story at Yahoo! Finance notes, "Bode and Schulz will initiate their own reports as well as respond to program issues raised by the public and government officials and the public broadcasting community. All decisions to review programming -- and all reports on broadcasts -- will be made by Schulz and Bode."
"Congress has asked the Corporation for Public Broadcasting to both protect the production of public broadcasting from undue interference, and to ensure that it represents high standards in accuracy, balance and objectivity," says Kathleen Cox, president and CEO of CPB. "The ombudsman office is a tested and reliable way to support those twin objectives. On some days we receive praise for what we do, and on other days our audiences express concerns," Cox adds. "The new Office of the Ombudsmen offers an independent sounding board and a public advocate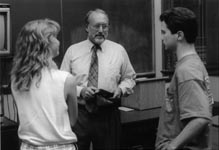 for those concerns. Media organizations who have established similar ombudsman functions report significant benefits to the quality of their work."
"I have always paid close attention to ombudsmen and felt their work has benefited the publications they serve and the readers and viewers they represent," Ken Bode says.
CPB Chairman Kenneth Y. Tomlinson emphasizes that the ombudsmen will not be in a position to screen programs before they air, but instead will monitor and respond to public criticism and suggestions that CPB shows generate. He states that CPB "will not permit concerns over balance to allow CPB to engage in pre-broadcast censorship or post-broadcast penalties of public broadcasters." Tomlinson adds the presence of the ombudsmen "will help ensure the goal of balance and accuracy in public broadcasting."

The article points out that "Bode currently is a visiting professor of journalism at DePauw University. He has covered politics for the New Republic, served as a national political correspondent for NBC News, and served as a senior correspondent for CNN. For five years, Bode was the moderator of public television's Washington Week in Review." He will be inducted into the Indiana Journalism Hall of Fame April 9 (read more here).
Access the complete text of today's announcement by clicking here. The Corporation for Public Broadcasting is a private, non-profit corporation created by Congress in 1967. Visit CPB online here.
Back