Willis "Bing" Davis '59 to Discuss His 'Extended Family' at Putnam County Museum Saturday
April 5, 2005
April 5, 2005, Greencastle, Ind. - Willis "Bing" Davis -- a Dayton, Ohio-based artist, retired chair of the art department at Ohio's Central State University, and a 1959 graduate of DePauw University -- will lead a special program at the Putnam County Museum this Saturday, April 9. Davis will speak at 11 a.m. on "The Extended Family: Another View." The museum is currently hosting an exhibition entitled, "African-Americans of Putnam County."
"This will be a wonderful presentation about Bing's DePauw years and his friendships with members of the Greencastle African-American community," says John Schlotterbeck, professor of history at DePauw.
As an artist known throughout the United States and particularly in the Midwest for his ceramics and mixed media masks, "Bing" Davis will offer a unique view of life in Putnam County as an African-American, having spent his college years and part of his career in Greencastle. Growing up on stories of life at DePauw recounted by his basketball and track coach, who was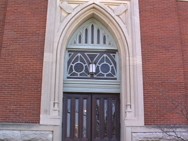 an alumnus of DePauw, Davis' choice for college was obvious. He entered the University in 1955, majoring in art education under Richard Peeler and playing basketball and track. Although no longer forced to live in the community by race restrictions in the dorms, the small group of African- American students still developed strong ties with the local African-American community.
Upon graduating in 1959, Mr. Davis had earned MVP status in basketball and headed back to Dayton, Ohio, to teach art. After several years at Colonel White High School and obtaining his masters degree at Miami University of Ohio, Mr. Davis returned to Greencastle to teach art at the college level and administer the new Black Studies program at DePauw. In 1971, he became the first African-American to be hired for a full-time, tenure track position at DePauw. Six years living in Greencastle and working at DePauw as a member of the faculty offered Mr. Davis another point of view of the community. In his presentation, discover how Davis' "extended family" in Greencastle and DePauw has influenced his life and how he has affected the local community. (photo at left shows Bing Davis and his wife, Audrey, with Laura Bush)
The Putnam County Museum is located at 209 W. Liberty Street in Greencastle. The mission of the museum is to collect, preserve, and interpret the natural, historical, and cultural heritage of the County and its people through education, exhibits and special programs. For more information, call (765) 653-8419 or send an e-mail here.
The museum is open to the public Thursdays from 1 to 6 p.m., Saturdays from 10 a.m. to 4 p.m., and the second Sunday of every month from 1 to 3 p.m.
Back