NUVO Previews Sunday's Benefit Concert by David Rovics
April 6, 2005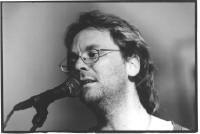 April 6, 2005, Greencastle, Ind. - Singer-songwriter David Rovics is touring the country performing Anti-Tyranny Tonic benefit concerts, and his stops include DePauw University this Sunday night, reports the Indianapolis newsweekly NUVO. The story by Molly Tucker notes that Rovics' DePauw appearance "benefits the Ecuador Peace Brigade, which is trying to prevent ongoing violence between mining corporations and communities."
The show, sponsored by the DePauw University Ecuador Solidarity Network (DUESN), begins at 6 p.m. in the ballroom of the Memorial Student Union building and includes a performance by Goza. Tickets are $3 and available at the door.
NUVO writes of Rovics' "blatantly sarcastic songs, [including] Globalization Is Good For You and After We Torture Our Prisoners... Rovics sparks both energy and interest in his audience, no matter what the point of view. The issues Rovics brings on stage aren't so much a whirlwind
of criticism about government as they are stepping stones for change. Throughout the '90s, Rovics spent most of his time touring the country and listening to what other activists had to say before he became one himself. Fueled by personal loss and the desire to inspire difference, Rovics tours the country in hopes that his words will bring to light real awareness."
Read the story online at the newspaper's Web site. Visit David Rovics' official site here.
Back