Experience "Profound" Evening with Madame F at DePauw Monday Night
April 7, 2005
April 7, 2005, Greencastle, Ind. - National Public Radio affiliate WHRO calls An Evening with Madame F "one of the most profound theater moments of recent times." On Monday, April 11, Claudia Stevens brings her acclaimed one-woman performance to DePauw University for one performance only. The program begins at 7:30 p.m. in Thompson Recital Hall of the Performing Arts Center and is free and open to all.
An Evening with Madame F depicts the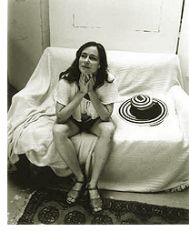 wrenching survival story of women musicians in concentration campus through music, song and drama. The show is based on the experiences of performers in concentration camps, including Fania Fenelon, who is a musician and cabaret singer and performed in the women's orchestra at the Birkenau death camp. Originally commissioned by the Jewish Community Federation of Richmond, Stevens -- the daughter of Holocaust survivors -- conceived the work, wrote the text and collaborated with Fred Cohen in development of the musical materials. Cohen also created the electronic sound used in the piece.
An Evening with Madame F has toured the country in over 100 performances, was also performed on television for PBS, and broadcast over Voice of America. Learn more about the performance by clicking here or here.
Back