ABC's "Nightline is Gone," Prof. Ken Bode Tells Chicago Sun-Times
April 6, 2005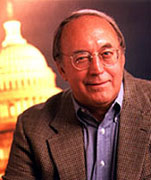 April 6, 2005, Greencastle, Ind. - "Nightline the way we know it will be over. It's not a question of whether," Ken Bode, Eugene S. Pulliam Distinguished Visiting Professor of Journalism at DePauw University, tells the Chicago Sun-Times. Bode, a former correspondent for NBC and CNN, is quoted in an article on Ted Koppel's decision to leave ABC and the program he's hosted since 1980. "The fact is, Nightline is gone. It's just a matter of when. And this is a triumph for Disney [which owns ABC], which has wanted to get rid of this program for some time," Dr. Bode adds.
Read the complete story at the newspaper's Web site.
Yesterday, Professor Bode was named ombudsman for the Corporation for Public Broadcasting, an announcement which received national attention.

He will be inducted into the Indiana Journalism Hall of Fame this Saturday, April 9 (read more here).
Ken Bode also writes a weekly op-ed for the Indianapolis Star. Read about his latest contribution here.
Source: Chicago Sun-Times
Back