Are New Technologies Creating Digital Distress?, Prof. Ted Rueter Asks
April 8, 2005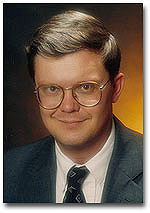 April 8, 2005, Greencastle, Ind. - "Going to the laundromat is one of life's enormous inconveniences," a tongue-in-cheek Ted Rueter writes in today's Herald-Times of Bloomington, Indiana. Rueter, assistant professor of political science at DePauw University, examines the increasing role technology plays in our lives. "Well, help is on the way. IBM and USA Technologies recently announced that universities in Indiana, Michigan, Ohio, and Michigan will begin using new technology allowing students to pay for their laundry using their cell phone or debit card. Better yet, students can visit a web site to learn when their dorm's washers are available. They will receive a cell phone call or an e-mail message when their muscle shirts and bikini briefs are done."
The professor examines several other gadgets that he says "are everywhere. There are now more than 400 million cell phones worldwide, chirping in churches, funeral homes, restaurants, and movie theatres. Many cars now come equipped with alarms, DVD players, fax machines, wireless Internet capability, and global positioning systems. Health clubs now offer Web access on stationary bikes. Many junior high students show up with cell phones, CD players, two-way pagers, hand-held organizers, super calculators, and MP3 players. More and more campers are 'roughing it' with digital cameras, televisions, air conditioners, generators, washer-dryers, microwaves, and satellite dishes."
Dr. Rueter continues, "All this 'progress' has produced a backlash. A USA Today survey found that 60 percent of consumers have stopped buying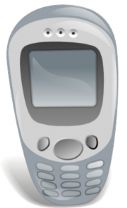 the latest high-tech devices, 43 percent believe technology is advancing too quickly, and 40 percent believe technology is too complicated. More than one-third of respondents said they suffer from 'digital distress' in shopping for high-tech goods. In 2001, 29 million adults stopped using the Web -- nearly double those who dropped out in 1998."
The column cites the work of several experts who believe technology is creating societies of people who are "going" all the time, but living lives that are increasingly stressful and less fulfilling. "'Efficiency' comes at the price of humanity," Rueter writes in conclusion. "Leaf blowers? Muzak? Boom box back packs? Keyless entry systems that cause your car horn to honk? Lights that respond to voice commands? Do we really need all this stuff? They didn't live this way in Mayberry."
Access the entire text at College News.org. Read about Ted Rueter's other recent opinion columns here, here and here.
Source: Bloomington (Ind.) Herald-Times
Back