Father Richard McBrien Discusses 'Challenges Facing the Next Pope' Wednesday
April 8, 2005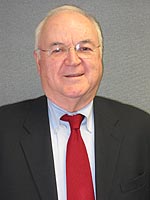 April 8, 2005, Greencastle, Ind. - Just three days before the College of Cardinals meets to cast its first ballot to choose the next pope, the DePauw University community will have an opportunity to hear from an expert on the subject. Father Richard McBrien -- currently a consultant to ABC News for papal events, including the election of the next pope -- will be a guest of the Crain Lecture Series on Wednesday, April 13. The free program, "Challenges Facing the Next Pope: Inside the Church and Outside," will begin at 4:15 p.m. in Watson Forum of the Pulliam Center for Contemporary Media.
Father McBrien is the Crowley-O'Brien Professor of Theology at the University of Notre Dame. He is the author of 20 books including Lives of the Popes and Caesar's Coin: Religion and Politics in America. In the past, he has served as an on-air commentator on Catholic events for CBS television and continues to offer regular commentary on all the major television networks. Father McBrien writes a syndicated weekly theology column for the Catholic press and is the general editor of the HarperCollins Encyclopedia of Catholicism.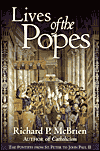 Endowed by Rance Crain, president of Crain Communications and a member of DePauw's Class of 1960, the Gertrude and G.D. Crain Jr. Lecture Series honors Mr. Crain's parents. Previous Crain Lecturers have included political analyst Charlie Cook; FactCheck.org director Brooks Jackson; veteran political columnist Jack Germond; military sociologist Charles Moskos; historian Douglas Brinkley, author of Tour of Duty: John Kerry and the Vietnam War ; David A. Keene, chairman of the American Conservative Union; and Joe Trippi, who managed Howard Dean's presidential campaign.
Crain Lectures are moderated by Ken Bode, Eugene S. Pulliam Distinguished Visiting Professor of Journalism at DePauw. The events feature a conversation between the guest and Dr. Bode, as well as what the professor calls "maximum opportunity for audience participation."
Back