Bush Presidency to be the Subject of First-Ever Crain Debate Tuesday
April 10, 2005
April 10, 2005, Greencastle, Ind. - Two national newsmakers will be paired with two DePauw University students for the inaugural Crain Debate, Tuesday, April 12 at 4:15 p.m. The event, which will take place in Watson Forum of the Eugene S. Pulliam Center for Contemporary Media, will feature the proposition: "Resolved: The presidency of George W. Bush has been good for America and for the world." The event is free and open to all.
Defending the proposition (and the Bush presidency) will be David Keene, chairman of the American Conservative Union, and DePauw sophomore Jenny Starcevich, a member of the University's debate team.
Taking the negative side will be Robert Borosage, president of the Institute for America's Future and former issues adviser to the presidential campaign of Rev. Jesse Jackson. His partner will be Michael Schmidt, a junior and editorial page editor of The DePauw.
The debate is presented by the Gertrude and G.D. Crain Jr. Lecture Series. Endowed by Rance Crain, president of Crain Communications and a member of DePauw's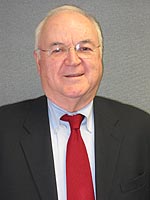 Class of 1960, the lecture series honors Mr. Crain's parents. Previous Crain Lecturers have included political analyst Charlie Cook; FactCheck.org director Brooks Jackson; veteran political columnist Jack Germond; military sociologist Charles Moskos; historian Douglas Brinkley, author of Tour of Duty: John Kerry and the Vietnam War ; David A. Keene, chairman of the American Conservative Union; and Joe Trippi, who managed Howard Dean's presidential campaign.
Father Richard McBrien (seen at right) -- currently a consultant to ABC News for papal events, including the election of the next pope -- will be a guest of the Crain Lecture Series on Wednesday, April 13. The free program, "The Politics of the Next Pope: Inside the Church and Outside," will begin at 4:15 p.m. in Watson Forum. Read more here.
Back