"Network News is in a Big Pickle," Prof. Jeff McCall '76 Tells Los Angeles Times
April 11, 2005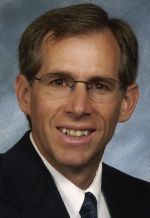 April 11, 2005, Greencastle, Ind. - The illness of ABC news anchor Peter Jennings, which follows the departure of longtime anchors Tom Brokaw and Dan Rather at NBC and CBS, respectively, has provided "the already unsettled world of network news with even more turbulence," writes Matea Gold in today's Los Angeles Times. In her column, she writes "transferring viewer affection to new anchors is not a simple matter, media experts said. 'These are the type of interactions that have to be developed over time,' said Jeffrey McCall, a professor of communication at DePauw University in Greencastle, Ind., who noted that competitive pressures from all-news cable channels, the Internet and other news sources limit the amount of time new anchors now have to bond with their audiences. 'Network news is in a big pickle,' he added. 'They can't afford to let whoever takes over the time to grow into the role.'"
Access the complete article, "More than an anchor; a rudder," by clicking here (a paid subscription to the Times is required).
Dr. McCall, a 1976 graduate of DePauw, is frequently quoted in stories on media issues. Recent appearances include PR Week, the Orlando Sentinel, and an op-ed that was published in several newspapers across the nation.
Source: Los Angeles Times
Back