Tom Porter '65 Named Executive-in-Residence at U of Michigan's Zell Lurie Institute
April 13, 2005
April 13, 2005, Greencastle, Ind. - Thomas S. Porter, general partner with Michigan-based Trillium Ventures and 1965 graduate of DePauw University, has been appointed the first executive-in-residence for the Samuel Zell & Robert H. Lurie Institute for Entrepreneurial Studies at the Stephen M. Ross School of Business at the University of Michigan. Porter will serve as a mentor and coach for Zell Lurie MBA students who are developing businesses, as well as conduct monthly roundtable sessions among student CEOs through the Entrepreneur and Venture Club.
"My professional career has been focused on founding and building successful companies across many industries in Michigan, from environmental research to health care," says Porter, who also serves on the board of DePauw's Robert C. McDermond Center for Management and Entrepreneurship. "Having spent the last few years working for technology growth companies, I know that being an entrepreneur takes a special set of skills -- skills that cannot be found in traditional business school programs. With its focus on action-based learning and application of entrepreneurial skills, the Zell Lurie Institute is the perfect place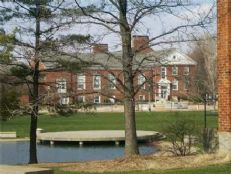 for me to help MBA students learn to develop these skills and realize their entrepreneurial dreams."
"We are delighted to welcome Tom Porter to the Zell Lurie team," says Tom Kinnear, executive director of the Institute. "Tom has a deep and rich background in founding companies and in venture capital. This will allow him to provide unique counseling to our student entrepreneurs."
Read more about Tom Porter's appointment and the Zell Lurie Institute by clicking here.
Back