Sheriff Mark Frisbie '92 Taking Key Role in Indiana's Efforts to Battle Methamphetamine Problem
April 13, 2005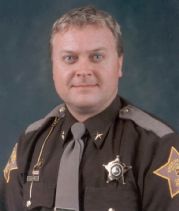 April 13, 2005, Greencastle, Ind. - "As Gov. Mitch Daniels made announcements Tuesday on the state's growing problem with methamphetamine abuse, he looked to Putnam County to provide leadership in the effort," notes today's edition of Greencastle's Banner-Graphic. "Putnam County Sheriff Mark Frisbie has been given the task of seeing that all 5,000-plus deputies in the state are trained in how to spot and handle meth-related crimes," Lisa Meyer Trigg writes of Frisbie, a 1992 graduate of DePauw University.
The article continues, "Of Indiana's 92 counties, only the Putnam and Knox sheriff's departments have trained all of their deputies in methamphetamine interdiction." Sheriff Frisbie tells the newspaper, "The reason he asked us to do this, is the majority of meth arrests are being made on traffic stops... It's been 30 days since we met with him [Gov. Daniels], and there's been so much accomplished in that time," he added.
"Also Tuesday, the governor announced a pilot program with several college and universities designed to ease a backlog of drug cases at state police laboratories," Trigg writes. "Students will serve as interns at the labs and handle basic drug cases to free police to focus their attention on meth cases. Frisbie and Putnam County Prosecutor Tim Bookwalter both
informed Daniels of their discussions with some DePauw University professors to work as a certified drug lab for the sheriff's department. That idea grew into Daniels' pilot program."
Access the complete story at the newspaper's Web site.
Back