Name May Speak Volumes About Next Pope, Fr. Richard McBrien Tells DePauw Audience
April 13, 2005
April 13, 2005, Greencastle, Ind. - When the successor to Pope John Paul II is announced, pay close attention to the name the new pontiff chooses -- Father Richard P. McBrien says it will be an early indicator of how the pope will lead. McBrien, the Crowley-O'Brien Professor of Theology at the University of Notre Dame and a consultant to ABC News for papal events, including the election of the next pope -- was a guest of the Crain Lecture Series this afternoon. He addressed "Challenges Facing the Next Pope: Inside the Church and Outside" in Watson Forum of the Pulliam Center for Contemporary Media.

[Download Audio: "The Next Pope" - 311kb] "If the man elected pope says, 'I'll be known as John the 24th,' the older Catholics who were raised with Vatican II, their hearts will be raising up to heaven," McBrien told the standing room only audience that packed the room. "Very likely, someone will say, 'I will be John Paul the 3rd'... But then,
you could have some people with false humility say, 'Well, I'm not worthy to be called John Paul,' so he'll take another name."
The author of Lives of the Popes contends that if the next pope selects the name Pius the 13th,

[Download Audio: "Problems" - 597kb] "That man intends to be an in-your-face pope, because anyone who follows the news at all knows that Pius the 12th is a very controversial figure. Whether or not you think it's fair or not is irrelevant -- he's so controversial because of his alleged silence during the Holocaust that John Paul II even took him off the track to canonization, at least temporarily... That would be an in-your-face decision that
this man, who has been so villified by the media and many others saying 'Hitler's pope' and so forth... 'I want to be named Pius the 13th.' Well, you're gonna have problems with that pope."
Father McBrien believes the next pope will be Italian, and in his 70's -- someone who is likely to be pontiff for a short period of time. He believes the College of Cardinals will decide,

[Download Audio: "The Next Pope" - 162kb] "After a long and dominant papacy like John Paul II had, 'let's catch our breath, let's let the dust settle, let's see where we are before we move on again.' So that the real successor to JP II will be the next pope after this one."
Other possibilities include a pope from Latin America, where half of the world's Roman Catholics live, or Africa, which has the fastest-growing Catholic population. An American pope? Not a chance, says McBrien.

[Download Audio: "Honest Broker" - 196kb] "A pope has to be an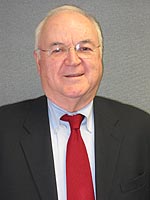 honest broker. Say this about John Paul II -- there are many positive things I do say, have said and have written, contrary to what some ultra-conservative Catholics think -- he established a very good reputation in the Arab and Muslim world." McBrien says it would be "difficult even for the best-intentioned American Cardinal, if he became pope, to be perceived that way."
The noted theologian says there are no "obvious candidates" to succeed John Paul II and, in fact, there have only been two clear front-runners for the post throughout history. He believes the selection process will take two-to-three days, meaning a new pontiff will be announced by next Wednesday.
It's hard to say what the next leader of the Catholic Church will do or say about the role of women, gay marriage, or the sex abuse scandals that have plagued its priests, but Father McBrien is certain of one thing: the new pope will bring energy and leadership to the post that John Paul II, because of his failing health, could not for the past several years.

[Download Audio: "John Paul II's Illness" - 303kb] "He obviously could not attend to the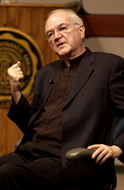 business of the church on a full-time basis in those last years; he did not. And the sexual abuse crisis... is the greatest crisis the Roman Catholic Church has had since the time of the Reformation. I think if we had a younger, healthier, more hands-on pope it might have been handled differently, and certainly, more bishops would have been disciplined than were."
Endowed by Rance Crain, president of Crain Communications and a member of DePauw's Class of 1960, the Gertrude and G.D. Crain Jr. Lecture Series honors Mr. Crain's parents. Previous Crain Lecturers have included political analyst Charlie Cook; FactCheck.org director Brooks Jackson; veteran political columnist Jack Germond; military sociologist Charles Moskos; historian Douglas Brinkley, author of Tour of Duty: John Kerry and the Vietnam War ; David A. Keene, chairman of the American Conservative Union; and Joe Trippi, who managed Howard Dean's presidential campaign.
Back