Prof. Ken Bode Takes Three National Leaders to Task in Indianapolis Star Op-Ed
April 16, 2005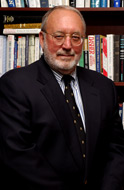 April 16, 2005, Greencastle, Ind. - Cardinal Bernard Law, "forced forced from his job as archbishop of Boston amid charges that he had failed to remove sexually abusive priests" in 2002, is one of the week's newsmakers that Ken Bode offers commentary on. In his weekly op-ed in the Indianapolis Star, DePauw's Eugene S. Pulliam Distinguished Visiting Professor of Journalism notes that Law led a Mass of mourning for Pope John Paul II in St. Peter's Basilica. "Law will be among the 115 or so cardinals who will soon cast the first ballots for pope," Bode writes. "As an additional insult, the new archbishop of Boston, not yet elevated to cardinal, will have no vote. Bernard Law remains the blackest blemish on John Paul II's papacy. The first job of the next pope will be to bust Law to buck private and send him to a remote monastery."
The professor and former political analyst for CNN also takes issue with House Majority Leader Tom DeLay, who is accused of ethical violations. Bode asks, "DeLay blames the press and a giant liberal conspiracy. But he is the sort that can never simply admit wrongdoing. This week he tried to apologize, saying his remarks about impeaching federal judges on the day of [Terri] Schiavo's

death were phrased in an 'inartful way.' DeLay seems unacquainted with the Law of Holes: When you find yourself in one, stop digging."
The Pulliam Professor takes President Bush to task for a comment he made while promoting his plan to reform Social Security. "Bush insisted there is no Social Security trust fund, just a pile of IOUs stored in a filing cabinet. Just paper, he said," Dr. Bode writes. "Former Indiana congressman Andy Jacobs created the law that created the paper. It is now lodged in two white, loose-leaf notebooks, each sheet representing a bond with a value as much as $8.6 billion. Jacobs wanted a physical document, and he got it. Call it a bond; call it an IOU, the bureau has never missed paying off an obligation. Just paper in a filing cabinet? That hit Roy Matthews' last nerve. 'Every day people go to the National Archives,' said the distinguished historian calling from Washington. 'They walk by the Constitution and the Declaration of Independence. Those are just paper.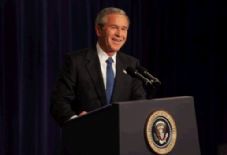 How dumb does President Bush think we Americans are?'"
Read the complete column at College News.org.
Ken Bode was inducted into the Indiana Journalism Hall of Fame last weekend, and was named ombudsman for the Corporation for Public Broadcasting last week.
Other recent essays by Bode can be accessed here, here, here, here, here, here, here, here, here, and here.
Source: Indianapolis Star
Back