Blogs "A Grassroots Medium for Participatory Journalism," Prof. Jeff McCall '76 Writes
April 17, 2005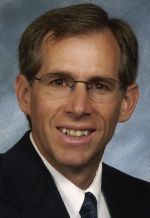 April 17, 2005, Greencastle, Ind. - "In the eyes of the U.S. Constitution, everyone is considered a journalist," writes Jeffrey M. McCall, professor of communication at DePauw University, in today's Indianapolis Star. "The First Amendment, which guarantees freedom of the press, makes no distinction as to who qualifies as a journalist and who doesn't. The recent phenomenon of Internet blogging, however, is pushing that question in ways that the authors of the Constitution could not have foreseen."
In a lengthy essay that appears on the front page of the newspaper's "Focus" section, Dr. McCall says Web logs have made it possible "for average citizens... to get their views distributed through the media." The 1976 DePauw graduate adds, "Access to the Internet empowers anybody to, in a sense, become a journalist and disseminate opinions and information to a potential worldwide audience. Setting up a Web log to "publish" your personal rants and solutions is simple and inexpensive."
The professor notes how bloggers have broken several major news stories and served as a check-and-balance for mainstream news organizations. "With increasing clout and visibility, however, has come increasing scrutiny. The Federal Election Commission will hold a public hearing in
June to decide how bloggers should be regulated under the Bipartisan Campaign Reform Act. The FEC ruled in 2002 to exempt most Internet activities from the BCRA. But a federal court overturned that decision last fall and sent the matter back to the FEC. Many blogs are partisan, and the FEC must decide how to regulate bloggers who link from their own material to a candidate's Web site, or forward a campaign's press material to readers. At issue is whether these activities are considered campaign contributions. The FEC will also consider whether bloggers should be considered journalists, and thereby exempted from the BCRA as are newspaper, magazine and broadcast journalists." Two other cases that are pending in California could also set new regulations for bloggers, McCall notes.
"While blogs can contribute to the raucous marketplace of ideas, readers should absorb them with common sense," McCall concludes. "The personal voice of bloggers can be rather charming but is not subject to editorial scrutiny. Fact and opinion are not necessarily separate on many blogs. Just because an opinion is posted on the Internet doesn't make it worth reading. All opinions are not equal when it comes to the blogosphere. The uncivil tone of some blogs is a concern. Blog readers should still make use of traditional media as part of a well-rounded media diet. The role of blogs in

public discussion will surely evolve in the coming months, and society will wrestle with what to make of them. One thing is certain, though: A grassroots medium for participatory journalism has arrived."
Read the complete column at College News.org.
Jeff McCall was quoted in Monday's Los Angeles Times, and was recently cited in PR Week, the Orlando Sentinel, and wrote an op-ed that was published in several newspapers across the nation.
Source: Indianapolis Star
Back