Prof. Emeritus James Mannon Publishes Epilogue: Poems of Love and Loss
April 19, 2005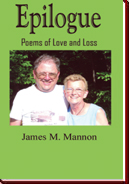 April 19, 2005, Greencastle, Ind. - James M. Mannon, professor emeritus of sociology at DePauw University, is the author of Epilogue: Poems of Love and Loss. The book is Mannon's first publication in creative non-fiction. His previous works include American Gridmark, Measuring Up, and Emergency Encounters.
The publisher describes Epilogue as "a non-fiction poetic narrative of the author's last days and months with his wife, who is dying of cancer. Each poem expresses how love can be found, nurtured and kept vibrant in the face of death. Loss and grief, too, are expressed poetically in a series of short post-death memoirs. Readers struggling with their own grief and loss will find in these poems a spirit of hope that even death cannot extinguish."
A recipient of the Frederick C. Tucker Distinguished Career Award, Dr. Mannon taught at DePauw for 26 years before retiring in 1991 to care for his ailing
wife, says, "What I hope to convey is that eventually time can heal the broken heart, and that the good memories will always rise to the surface floating on the heart's capacity to hope."
Read more and access a sample of the book at the publisher's Web site.
A previous story on Jim Mannon can be accessed here.
Back