Karen Koning AbuZayd '63 Named Interim Commissioner-General of UN Agency
April 21, 2005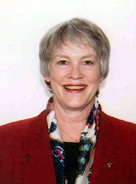 April 21, 2005, Greencastle, Ind. - Karen Koning AbuZayd, a 1963 graduate of DePauw University, has been named acting commissioner-general of the United Nations Relief and Works Agency for Palestine Refugees (UNRWA). The announcement was made by UN Secretary-General Kofi Annan. AbuZayd, who has been deputy commissioner-general of the UNRWA since August 2000, will hold the post until a permanent commissioner-general is appointed.
"These are challenging times for UNRWA," Anna wrote in a letter to AbuZayd. "I am, however, confident that with the support of your able staff you will carry out the responsibilities of running UNRWA during this interim period with success and unflinching dedication."
An International Press Center report states, "As UNRWA's Deputy Commissioner-General, Ms. AbuZayd has had a key role in the Agency's response to the humanitarian emergency caused by the conflict in the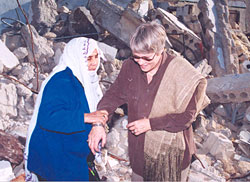 West Bank and Gaza Strip since late 2000. She has also been leading the evolution of the Agency's relationship with donors and other stakeholders. Before joining UNRWA, AbuZayd, an American national, worked for the Office of the UN High Commissioner for Refugees for 19 years. In that time she worked on emergencies across Africa, was UNHCR's chief of mission in Sarajevo during the Bosnian war and was Chef de Cabinet to High Commissioner Sadako Ogata and Regional representative for the U.S. and Caribbean." She received an honorary Doctor of Public Service degree from DePauw in 2001.
Access the full article by clicking here.
Back