Elizabeth Byrne Hogan '90 Appointed Circuit Court Judge
April 21, 2005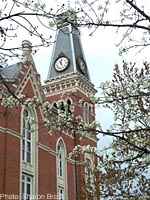 April 21, 2005, Greencastle, Ind. - Missouri Governor Matt Blunt has appointed Elizabeth Byrne Hogan, a 1990 graduate of DePauw University, to serve as associate circuit judge of the 22nd Circuit Court in St. Louis. Hogan comes to the bench from Voices of Children, formerly St. Louis City CASA, which she served as an attorney.
Hogan will fill the vacancy created by the appointment of Edward W. Sweeney to serve as judge of the 22nd Judicial Circuit. A news release from the governor's office states that, before joining Voices of Children, Hogan "was previously a partner with the Hogan Law Firm. Her broad legal experience has given her a background in criminal defense and domestic abuse. Hogan obtained her juris doctorate from the Thomas M. Cooley Law School in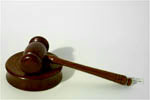 Lansing, Michigan. She received her bachelors of arts from DePauw University in Indiana."
Access the announcement by clicking here.
Back