TV Turnoff Week "Misguided," Writes Prof. Jeff McCall '76 in Op-Ed
April 23, 2005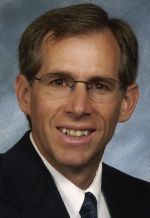 April 23, 2005, Greencastle, Ind. - Monday, April 25, marks the beginning of the annual "TV Turnoff Week", but Jeffrey M. McCall, professor of communication at DePauw University, calls the campaign "misguided." Writing in today's Indianapolis Star McCall opines, "There is wide agreement that television plays too large a role in society, washing over us with commercialization and various other messages of violence, cheap sex and anti-social behavior... [However,] instead of turning off the TV, viewers should be encouraged to be more selective in the programs they choose. Watching TV is not necessarily bad for you if you are watching something with redeeming qualities. Viewers need to be guided to choose more of the relevant programs and skip the mindless stuff."
The professor, a 1976 graduate of DePauw, notes that televisions, which were at one time relegated to the living room, can now be found in nearly every room of the typical American home, including childrens' bedrooms. "Kids will not take seriously a message from parents to turn off the TV for a week when their house has a TV in every room. They will, however, know parents are serious about limiting TV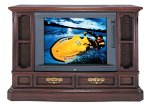 exposure when the kid's TV gets sold at the next garage sale. Get rid of the kitchen TV, too, so dinner can be a time for conversation. Keep only one TV, in a place where the family is comfortable together. That way parents will know what the kids are watching."
Dr. McCall says parents can use onscreen advisory warnings and the V-chips in their sets to keep their children from sexual or violent programming. He concludes, "Even if you can keep the TV off at your house, it's not practical to think you can keep kids from stumbling into functioning TVs at the neighbors, the restaurant or school. So, let's stop TV-style marketing of turnoff week. Instead, focus on building television literacy skills to better understand televised messages and how to choose the proper messages to watch."

Read the complete text at College News.org.
Jeff McCall wrote a lengthy essay on the growing popularity of blogs and the issues they raise in last Sunday's Indianapolis Star. He was also recently quoted in the Los Angeles Times, and was cited in PR Week, the Orlando Sentinel, and wrote an op-ed that was published in several newspapers across the nation.
Source: Indianapolis Star
Back