Paul Rusesabagina -- at DePauw Tonight -- Shares Story of Hotel Rwanda With More Than 2,000 in Louisville Sunday
April 25, 2005
Details of Paul Rusesabagina's DePauw Ubben Lecture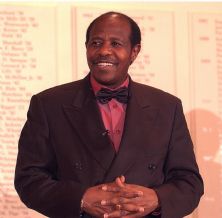 April 25, 2005, Greencastle, Ind. - "He was the man who inspired the movie Hotel Rwanda. And Sunday more than 2,000 people gathered at the Kentucky Center to hear Paul Rusesabagina talk about the horrors of war, and to ask for help from other nations," notes a story at the Web site of Louisville television station WHAS. On Monday night at 7:30, Rusesabagina -- who is credited with keeping 1,200 people alive in his hotel during a 100-day campaign of ethnic violence in Rwanda that left almost a million people dead -- will deliver The Timothy and Sharon Ubben Lecture at DePauw University's Krege Auditorium.
The Kentucky event, which was sponsored by Louisville Free Public Library, offered the public free tickets, which were all accounted for before the event. Rusesabagina's DePauw appearance is free and open to all, and seats will be available on a first-come, first-served basis.
"We have literally had calls from around the world since we booked this event," says Ken Owen '82, director of media relations at DePauw and coordinator of the Ubben Lecture Series. "I've been advising people to arrive early, just in case. As the Louisville speech and other recent appearances attest, he is very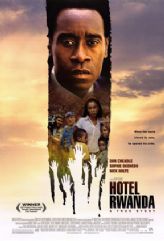 much in demand and we expect a big crowd at DePauw." Kresge Auditorium holds approximately 1,450 people.
Read more about Paul Rusesabagina's Louisville appearance by clicking here. Complete details of the Ubben Lecture at DePauw can be found here.
The Ubben Lecture Series has brought distinguished individuals to the DePauw University campus since 1986, including Ambassador L. Paul Bremer, National Football League co-MVP Peyton Manning, 2004 presidential candidate and retired General Wesley Clark, former British Prime Ministers Margaret Thatcher and John Major, General Colin Powell, Ross Perot, Spike Lee, Mike Krzyzewski, Harry Belafonte and ice cream entrepreneurs Ben & Jerry.
To view a complete list of past Ubben Lecturers, which includes links to video clips and news stories, click here.
Back