Premiere of Song Cycle by Kevin James '83 Will Feature NY-Area DePauw Alumni
April 25, 2005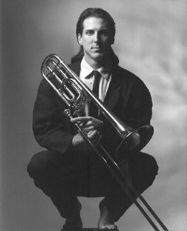 April 25, 2005, Greencastle, Ind. - The New York premiere of a new song cycle will be all DePauw on Wednesday, May 4. New York-area alumni ranging from the Classes of 1983 to 1999 will perform a song cycle composed by Kevin D. James '83 and based on the poetry of two DePauw professors, Eugene Gloria and Maurice Manning.
Scheduled at the Kosciuszko Foundation, 15 E. 65th St., New York, the event will begin with a private reception for alumni and guests at 6:30 p.m. The performance will be at 7:30 p.m., and the private reception continues afterward with the composer and performers.
Cost for the event is $45 per person. Alumni who want to attend should R.S.V.P. to the DePauw Alumni Relations Office by calling toll-free (877) 658-2586 or sending an e-mail here.
DePauw alumni performers will include:
Jason A. Asbury '95, piano
Lauren E. Bennett '99, flute
Kathleen Byrum-Suss '86, soprano
Kristen Perks Champ '91, soprano
Ronald R. Dwenger '86, baritone
Brian M. Hersh '99, percussion
Jenny L. Izenstark '84, soprano
Kevin D. James '83, trombone
Caroline E. Nagy '99, violin
Paul C. Soper '84, baritone
Amy N. Yarbrough, soprano
The program will include "After Before" for soprano, baritone, piano and percussion. It features the poems "White Blouses" and "Elegy for No One"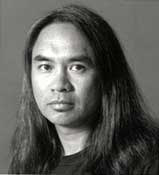 written by Eugene Gloria, DePauw assistant professor of English (pictured at left). The poems are taken from Gloria's book, Drivers at the Short-Time Motel, which won the National Poetry Series.
Composed for three sopranos, baritone, piano, flute, violin, trombone and percussion, "Selections from Lawrence Booth's Book of Visions" will feature poems from former DePauw assistant professor of English Maurice Manning's book, Lawrence Booth's Book of Visions, winner of the Yale Series of Younger Poets competition. Highlighted poems are "Bellwether," "Envoy," "Progress Report," "Seven Chimeras" and "A Dream of Ash and Soot."
A critically acclaimed composer, Kevin James received a Bachelor of Music degree from DePauw with a double major in music performance and religion, and a master's degree in music from Brooklyn College. He has received awards and grants from the American Composers Forum, Jerome Foundation, National Endowment for the Arts, New York State Council on the Arts and many others. His multi-media work, NYC Play Ground, written for the Transient Glory Series of the Young People's Chorus of New York City, was chosen to represent the United States at the 2005 World Choral Music
Symposium in Kyoto, Japan. Another work, "In Complexu Pacis," took honors in the worldwide Waging Peace choral music competition and was a winner of the Essentially Choral competition.
James has been commissioned to compose music by numerous groups, and his works have been performed by top national and international ensembles. He has held residencies at the Atlantic Center of the Arts in New Smyrna Beach, Fla., and the MUSIC-OMI artist colony in New York. James created the Portraits Project Mentorship Program, through which children living in homeless shelters and highly underserved communities are given the opportunity to learn instrumental music from top New York musicians.
To read more about Kevin James, his work and the Portraits Project, click here or access this previous story.
Back