DePauw A Popular Destination for Class of 2009; Completed Applications for Admission Second Most-Ever
April 26, 2005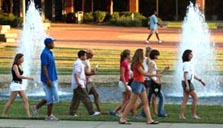 April 26, 2005, Greencastle, Ind. - Decision day is Sunday for high school seniors across the nation, and a near-record number of them have applied to DePauw University. As of today, DePauw's admission office has received 3,413 completed applications -- the second-highest total in the University's history (3,591 in 2003). More than 450 students have accepted DePauw's offer of enrollment, "So, the incoming class is already three-quarters full, and we typically receive a flurry of confirmations on the day students must report their decisions, May 1," says Madeleine Eagon, vice president for admission and financial aid. "This is shaping up to be a very strong finish to an excellent year for admission."
The applications -- more than 3,800 all told -- have come from all 50 states and 40 countries. "Academic quality is higher than last year across the applicant pool and we
admitted a smaller percentage of our applicants," Eagon reports. "The Programs of Distinction have enjoyed an excellent recruiting year, and are well on their way to filling their respective classes. All who have worked hard to continue the tradition of DePauw's strong incoming classes should feel very good about their efforts."
DePauw and its programs continue to receive national recognition. The new 2006 edition of the book, America's Best Value Colleges, released last week, lists DePauw as one of the 81 top colleges and universities it profiles. "Undergraduates stream here for first-rate programs in business, which include the Management Fellows Program with its coveted internship opportunities," the book's editors write. "They're also drawn by top departments in computer science and technology, media studies, the sciences, and music. Distribution requirements lean heavily toward the humanities and communications, guaranteeing that undergrads will leave
with a strong liberal arts education and will have endured a challenging, heavy workload... Small, discussion-based classes are led by professors who hold their pupils firmly to high academic standards," the book states.
U.S. News & World Report has ranked DePauw in the nation's top tier of national liberal arts colleges for five consecutive years. The Princeton Review's annual publication, The Best 357 Colleges: 2005 Edition, also gives DePauw high marks for its academics and social scene, as do the 2005 edition of the Unofficial, Unbiased Guide to the 331 Most Interesting Colleges and College Prowler's new guide to DePauw University. The National Survey of Student Engagement finds that students at DePauw University enjoy significantly more academic challenges, interactions with faculty, collaborations with others and enriching educational experiences than students at peer institutions and the national average at all colleges and universities. An October 2004 article in Atlantic Monthly cited the value of a DePauw degree, and a national survey posted at Forbes.com lists DePauw as America's #3 "most connected campus." Finally, College Prowler's

guide notes that "DePauw has many highly acclaimed professors. They love what they do and want to be here," the text continues. "They're smart and they want their students to rise to their highest potential. They make their pupils work hard. So, be prepared to hold your own."
Prospective students who would like more information on DePauw University, including access to an online application form, can click here.
Back