"Game of Chicken" Being Played as Broadcasters Mull Response to FCC Indecency Crackdown, Prof. Jeff McCall '76 Tells CNN.com
April 28, 2005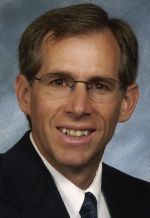 April 28, 2005, Greencastle, Ind. - A legal showdown may be brewing over the Federal Communications Commission recent crackdown on indecent broadcasts, reports a story on CNN.com. Krysten Crawford writes, "FOX, CBS and NBC are still in the early stages of that objecting to the FCC ruling so there's no predicting where it will lead. But legal experts say that networks have picked high-profile cases that could be the foundation of a potentially groundbreaking lawsuit. 'It's a game of chicken' to see who -- the networks or the FCC -- blinks first, said Jeffrey McCall, a communications professor at DePauw University, who supports the government's recent indecency initiatives."
The story continues, "McCall said entertainment companies are also waiting to see whether Congress imposes stiffer penalties and whether new FCC chairman Kevin Martin changes the agency's direction. Given that Martin has been a vocal advocate of anti-obscenity enforcement, the crackdown is likely to continue ... McCall said broadcasters have, until now, largely viewed indecency fines as simply the price they must pay to operate. But if fines are boosted to $500,000 per violation for each radio or television station that broadcast the offending program, 'getting fined by the FCC of indecency may no longer be just a cost of doing business,' he said."
Read the complete article by clicking here.

On Sunday, the Indianapolis Star published an op-ed by Dr. McCall on "TV Turnoff Week". McCall, a 1976 graduate of DePauw, also wrote a lengthy essay on the growing popularity of blogs and the issues they raise, and was recently quoted in the Los Angeles Times, and was cited in PR Week and the Orlando Sentinel.
Source: CNN.com
Back