Prof. Ken Bode Writes of Frist-Jeb "Religious Right Primary"
April 29, 2005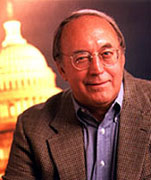 April 29, 2005, Greencastle, Ind. - "Keep an eye on Bill Frist as he tries to kill the filibuster rule in the Senate. This is the first round in the contest to see who succeeds George W. Bush. Call it the evangelical Christian primary," writes Ken Bode, Eugene S. Pulliam Distinguished Visiting Professor of Journalism at DePauw University, in today's Indianapolis Star. Bode, former NBC correspondent and former senior political analyst for CNN, also serves as ombudsman for the Corporation for Public Broadcasting.
"It began with the Terri Schiavo episode, when Frist, a heart surgeon by profession, embarrassed the medical school that awarded his diploma by claiming to do a diagnosis of the depth of Schiavo's coma by watching a videotape," Professor Bode writes. "What we are watching is phase one of the battle to win future support from the Republican religious right. In the Schiavo case, the issue was euthanasia, which, along with abortion, stem cell research and human cloning, makes up what is called 'The Culture of Life.' All are litmus tests for
any Republican who wants to run for president," states Bode, noting that gay rights is another hot button issue.
"As majority leader, Frist is in an enviable position to press his case," Dr. Bode continues. "[But he] is not the only candidate active in the religious right primary, nor is he even the leading one. That would be Jeb Bush, who finishes his final term as governor of Florida next year. Yes, Jeb has said he is not interested in following his brother into the White House, but remember this: If he were interested, he would not say so now."
In conclusion, the veteran political observer writes that Bush and Frist will be interesting to watch between now and November 2008. "Friends say Jeb has a deeper commitment to evangelical causes than his brother, insisting that his intervention in the Schiavo case was driven by personal belief, not just politics. This week he had the opportunity to please another powerful constituent group of the conservative right. The

governor signed a bill allowing Floridians to use deadly force to protect themselves in public places as well as their homes, a victory for the National Rifle Association. For now, it's Frist versus Jeb for the hard-core Christian vote. But remember, in the end, Jeb also has George W. and the whole Bush clan in his corner."
Read the complete op-ed at College News.org. Other recent Star essays by Ken Bode can be accessed here, here, here, here, here, here, here, here, here, and here.
Source: Indianapolis Star
Back