Sunny Skies Greet Estimated 2,000 Walkers at 2005 Putnam County Relay For Life
April 30, 2005
Make a Donation to 2005 Putnam County Relay for Life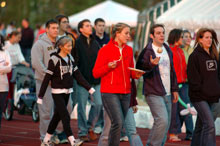 April 30, 2005, Greencastle, Ind. - "There's a lot more people out here this year -- we're really excited about that as well as the number of people who are really devoting themselves to this cause," said DePauw senior and 2005 Putnam County Relay For Life chair Lee Anne McKelvey as the annual, award-winning fundraiser for the American Cancer Society officially kicked off at noon today. After several days of wet, chilly weather, the oldest college-run Relay in the United States opened to sunny skies and a temperature of 55 degrees at DePauw's Blackstock Stadium.

[Download Audio: "A Break in the Weather" - 166kb] "The sun came out, and [we had] blue skies, so we're very excited about that because we thought we might have to

move inside," McKelvey said as the event began. "Everything's going very well. There's tons of people out," she reported.
DePauw students, walking side-by-side with members of the Putnam County community, have a tough act to follow. Putnam County Relay For Life raised a record $208,735 last spring, and has seen phenomenal growth over the years. In 1998, the event raised $20,000. The 1999 total of approximately $30,000 was eclipsed by 2000's $42,000. Then, 2001 brought in $80,000, followed by $127,000 in 2002 and more than $162,000 in 2003.
As the walkers hit the track at noon Saturday and corporate and community sponsors set up tents around the stadium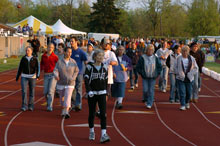 , McKelvey was confident that records will fall again in 2005.

[Download Audio: "The Numbers" - 166kb] "We have a record number of teams this year -- 167, maybe even a few more, and probably two thousand participants registered online -- so that is just an amazing increase compared to last year," she said. The 2004 Relay attracted 1,385 walkers representing 124 teams. This year's goal was 130 teams.
The Internet is playing a bigger role in the 2005 event.

[Download Audio: "Online Presence" - 198kb] "This year, every single participant had to be registered online, whereas last year we used paper forms... As you can see, compared to last year, when we raised about $12,000 online, the total is still growing... Somebody checked this morning and it was about $1,500 up compared to yesterday." As of noon Saturday, more than $50,000 had been raised online. You can see the up-to-the-minute total and make a contribution to 2005 Putnam County Relay For Life by clicking here.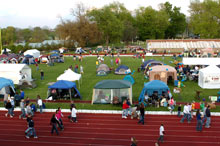 The fundraiser, which is coordinated by DePauw students, is consistently ranked among the top college-run Relays in the nation in terms of participation and dollars raised. The 2004 event received the All-American Relay Award and was ranked 6th in the nation in money raised per capita, based on the local population. The American Cancer Society's Great Lakes Division awarded the 2003 Putnam County Relay its Heart of Relay Award for Diversity, which recognizes excellence in efforts to encourage participation by all members of the community. Putnam County Relay For Life was awarded the 2002 Heart of Relay Award for the Great Lakes Division, and the year before won the National Heart of Relay Award as the best college or university Relay in the USA.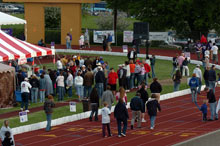 For McKelvey, who lost her mother to cancer, Relay For Life is exhilirating and emotional.

[Download Audio: "Why We're Here" - 321kb] "I'm out here for my mother. She passed away two years ago... everything I do is pretty much in her honor and remembering her," the DePauw senior says. "It is just amazing to see all of these people out here enjoying this. There's a lot of hard work that goes into it, and to be able to do it for people so they can have this avenue to remember people and celebrate the survivors that are still here and fighting, it's just amazing. Every time I come out here and see [the huge gathering of walkers, cancer survivors and volunteers] in the morning, it's a really great feeling to know that my mom is looking down and seeing this: it's really amazing."
Back