Another Record Relay: More Than $230,000 Raised
May 2, 2005
Make a Donation to 2005 Putnam County Relay for Life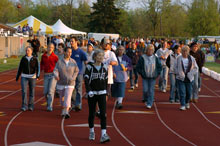 May 2, 2005, Greencastle, Ind. - The fundraiser is over, but donations are still coming in, and 2005 Putnam County Relay For Life is a record-setter. As of this morning, $230,751.73 has been raised by the nation's oldest college-run Relay, smashing the previous high of $208,735 last spring. The event benefits the American Cancer Society.
"That number will continue to grow as well as people are still asking if they can turn in money," says a tired but jubilant Lee Anne McKelvey. The DePauw senior served as chair of 2005 Putnam County Relay For Life. "I know I have said this before, but this community never ceases to amaze me when it comes to how much is raised," McKelvey adds.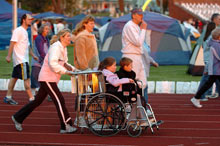 "There is an incredible commitment to this cause that is shared by all residents of Putnam County, which is extremely evident when you see the total amount of money we raised as well as the number of people that attend the 24-hour event and enjoy themselves as they take action to fight cancer."
McKelvey says the 2005 event attracted roughly 160 teams and 2,000 walkers; more than 100 cancer survivors were in attendance during the 24-hour-long event, and over 3,700 luminarias were purchased and lit in honor of cancer victims -- all are record numbers.

Putnam County Relay For Life has seen phenomenal growth over the years. In 1998, the event raised $20,000. The 1999 total of approximately $30,000 was eclipsed by 2000's $42,000. Then, 2001 brought in $80,000, followed by $127,000 in 2002, more than $162,000 in 2003, last spring's $208,735 and now, 2005's record of more than $230,000.
The fundraiser, which is coordinated by DePauw students, is consistently ranked among the top college-run Relays in the nation in terms of participation and dollars raised. The 2004 event received the All-American Relay Award and was ranked 6th in the nation in money raised per capita, based on the local population. The American Cancer Society's Great Lakes Division awarded the 2003 Putnam County Relay its Heart of Relay Award for Diversity, which recognizes excellence in efforts to encourage participation by all members of the community. Putnam County Relay For Life was awarded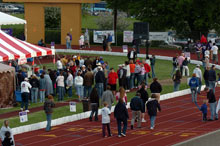 the 2002 Heart of Relay Award for the Great Lakes Division, and the year before won the National Heart of Relay Award as the best college or university Relay in the USA.
Donations are still being accepted and can be made online by clicking here.
Read more about this year's Relay For Life in this story posted Saturday afternoon.
Back