Sixth-ranked Tigers earn spot in NCAA field; Bondi and Anderson selected to individual championships
May 2, 2005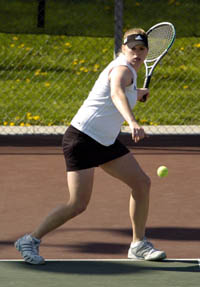 May 2, 2005, Greencastle, Ind.
- The sixth-ranked DePauw women's tennis team has earned a bid to the 26-team NCAA Division III Championships and faces Washington (Mo.) in the first round on Saturday, May 7, at Denison University.
The 15-6 Tigers face the 9-8 and 16th-ranked Bears in a Central Region first-round match at a time to be announced. Denison (18-2 and eighth-ranked) will take on 29th-ranked Albion (16-5) in the other first-round match with the winners meeting on Sunday, May 8, for the right to advance to the national quarterfinals beginning on May 18 at Kalamazoo College.
DePauw defeated Washington at home on March 1 by a 6-3 score. The Tigers were 1-2 against Denison and 1-0 against Albion during the regular season.
Junior Liz Bondi was selected to compete in the Division III Singles Championship and, with junior Jill Anderson, was chosen to the Division III Doubles Championship. Bondi (pictured), one of 32 singles players selected, takes a 28-2 singles record into the tournament and is seeded second.
A two-time all-American, Bondi advanced to the 2003 NCAA singles quarterfinals and was the runner-up at the Intercollegiate Tennis Association's fall championship in 2004.
Bondi and Anderson have posted a 12-4 doubles record and are seeded third in the Division III field of 16 doubles teams. Bondi teamed with Elizabeth Steele in the fall to win the ITA Super Bowl of Tennis and became the first Division III players in the ITA's national indoor championships. As a freshman, Bondi advanced to the NCAA doubles finals with 2003 DePauw graduate, Haley Heathman.
The singles and doubles championships take place at Kalamazoo College May 21-23.
Back