Prof. Valarie Ziegler Discusses Origins of Mother's Day on Democracy Now!
May 6, 2005
See and Hear the Democracy Now! Segment

May 6, 2005, Greencastle, Ind. - "Mother's Day was not originally a day when Dad cooked and you went to church and the ladies got applause and everything," says Valarie H. Ziegler, professor of religious studies at DePauw University, on today's edition of Democracy Now!. "It was really a day for women to come together and to call men and the world to see the necessity of living in peace rather than giving in to the ravages and aggressions of war."
Democracy Now! is a television and radio program seen and heard on more than 300 stations across the United States. Ziegler is interviewed in a segment titled "Julia Ward Howe: The Woman Behind Mother's Day." The professor's book, Diva Julia: The Public Romance and Private Agony of Julia Ward Howe, is the first full-length biography of Howe and earned Dr. Ziegler the inaugural Trinity Prize.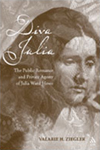 A synopsis on the program's Web site states: "As we approach Mother's Day this Sunday, we take a look at the woman behind Mother's Day, Julia Ward Howe. Yes, she is the author of the Battle Hymn of the Republic, but after seeing some of the devastating effects of the Civil War -- death, disease, famine and poverty -- she began advocating for a mother's day for peace in 1870."
As war raged, Dr. Ziegler says Howe "began asking herself why it is that nations do this to one another, and in particular, she began thinking about what might be possible for women to do on behalf of humanity. Women in this day and age were supposed to be confined to the home; they weren't supposed to be out making speeches or working for political change. And Howe really wanted to find a way for women to express what she thought was an innate nature of love for God and love for humans. She thought that being a mother really was a powerful experience and that, after having been a mother, no one could willingly see their sons go off to war to be slaughtered. So, she began to organize on behalf of women for peace."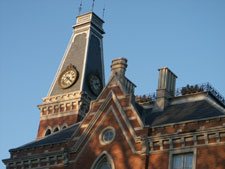 The professor continues, "Men just seemed to be innately aggressive, and the only hope for civilization is for women to speak a different kind of voice ... By 1872, she began proclaiming that June 2 of every year would be a mother's day for peace ... Mother's Day is really a day of activism." Ziegler says within a year Mother's Day was celebrated in 18 states, Rome and Constantinople, but Howe was unsuccessful at getting national recognition for Mother's Day during her lifetime. In 1907, a woman named Anna Jarvis picked up Howe's torch and five years later, Mother's Day was officially observed across America.
The show can be heard and seen via audio and video clips, accessible by clicking here.
Find a local station that broadcasts Democracy Now! here.
Source: Democracy Now!
Back