DePauw Band's Final Concert Features Student Conductors and Musicians from Area High Schools
May 8, 2005
May 8, 2005, Greencastle, Ind. - The DePauw University Band will perform its final concert of the year on Wednesday, May 11, at 7:30 p.m. in Kresge Auditorium. Free and open to the public, the event will feature DePauw student conductors Cynthia Martin, John Chittum, Linden Christ and Kendra Graf as well as guest high school musicians from Greencastle and North Putnam High Schools. Included on the program will be works by Percy Grainger, Darius Milhaud, Gustav Holst and others.
"The University Band is proud to feature these four talented DePauw University student conductors," says Craig Paré, director of the DePauw University Band. "Each was selected by audition, and have been rehearsing the University Band for the last three weeks in preparation for our concert on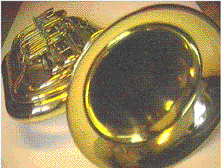 May 11. It is a way for me to not only teach some advanced conducting skills but to also highlight the talents of DePauw musicians as they develop as conductors."
The inclusion of local high school students on this concert is representative of DePauw's commitment to the area's young artists and their development. Joining the ensemble from the Greencastle High School Band are Pete Edberg, Chad Friend, Brad Hudson, Matthew Middleton and Miles Salman. Allison Dreshfield, Jeremy Kiger, Nora Majors and Tim Peyton will be representing the North Putnam High School Band at the DePauw concert.
"Since 1994,
in every year the University Band isn't recording a compact disc, we have invited high school directors to nominate their top players to join us in rehearsals and performance for the Student Conductors Concert," says Paré of these guests' participation. "I would like to thank Robert Hedge, band director for Greencastle High School, and David Knott from North Putnam High School for their support of these students. And I would like to congratulate the students themselves, who have given up their after-school hours to be here with us on campus for our University Band rehearsals. They are outstanding young men and women, and it is a pleasure to have them join us to make music."
Visit the DePauw University School of Music online here.
Back