DePauw-Dell Notebook Computer Deal Enhances Student Connectivity and Access to Affordable Technology
May 16, 2005
Also: DePauw USA's #3 'Most Connected' Campus
May 16, 2005, Greencastle, Ind. - Dell Computer and DePauw University have reached a three-year agreement that will make wireless-enabled Dell Latitude(TM) notebook computers available to DePauw students at affordable prices. The program, announced today, supports the University's effort to integrate technology into the fabric of college life.
An announcement at Yahoo! Finance notes, "Students can now access the University's wireless network virtually anywhere on campus. Ensuring easy access to the network is a critical component to maintaining and enhancing DePauw's connected culture. The Dell Latitude notebook program is a part of DePauw's award-winning 361° Initiatives which are programs designed to prepare students for leadership in the digital age by giving them access to the best technology available and teaching them to be fluent in its use."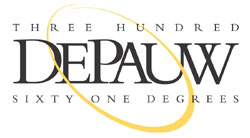 "We were looking for a partner that understands how technology works in a university setting," says Dennis Trinkle '91, chief information officer at DePauw and director of the 361° program. "For us, it is not about the technology for technology's sake; it is about teaching and learning. Technology should work well enough to fade into the background and invisibly support those primary objectives."
Through this agreement, students receive a discount on Dell notebook computers that come pre-loaded with Microsoft applications and essential campus tools. Notebooks purchased through the program come with a three-year limited warranty and variety of services. For example, students can refresh their computers after two years through a buy-back program that allows them to return their notebooks to Dell for credit toward a new system. DePauw's technology team supports Dell equipment
with an on-campus Dell Help Desk, which provides students service and support assistance. Dell has also established a dedicated Web site for students to use when ordering systems.
"By seamlessly blending technology into a well-rounded liberal arts education, DePauw University instills in students a drive toward innovation and a competence in technology that will serve as the foundation for any career they choose," said John Mullen, vice president of Dell's higher education segment. "We've worked closely with DePauw to develop these innovative programs, which will help their students find future success."
Read the complete announcement by clicking here.
In February 2001, DePauw University received a $20-million grant from Lilly Endowment to establish a national technology center and launch a series of initiatives to guarantee that the university's 2,350 students, faculty, and staff will be equipped to provide the creativity and leadership required by the digital age. The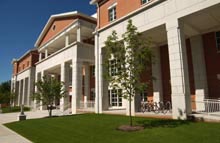 name of the resulting model -- 361° -- refers to DePauw's goal that these initiatives will prepare students for every degree of life and for creating the future. DePauw's efforts reinforce the institutional emphasis on critical thinking, problem-solving, interpretation, learning through experience, and learning through reflection. In this context, information technologies are integrated into curricular and co-curricular activities as a liberal art rather than in a skill-based approach, and IT tools are used as a scaffolding for discussion. Visit the 361° Web site by clicking here.
In October, DePauw was named America's #3 most connected campus. You can read about recent awards the 361° program has won in this previous story.
Back