Greg Gvozdas '98, 'Coach of the Year,' Honored for Team's Championship
May 19, 2005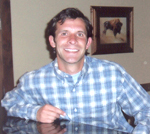 May 19, 2005, Greencastle, Ind. - Greg Gvozdas, girl's varsity soccer coach at Wood River High School in Hailey, Idaho and 1998 graduate of DePauw University, was honored Saturday night for winning the league championship, notes a story in the Idaho Mountain Express. "Gvozdas, a first-year coach with the Wood River girls' varsity who played college soccer at DePauw University in Indiana, was selected as 4A Fourth District Coach of the Year. Already heralded as Coach of the Year of the Great Basin Conference West (along with Minico's Armando Tapia), Gvozdas guided the Wolverines to a 17-1-1 record and third place in the State 4A tourney."

The story adds, "The Great Basin Conference champion Wolverines outscored opponents 70-4. Their lone loss came in the first round of the state tournament to eventual runner-up Moscow."
Read the story at the newspaper's Web site. Learn more about Greg Gvozdas in this previous story.
Back