"Newsweek Got Hustled," Prof. Ken Bode Tells MSNBC's Hardball
May 16, 2005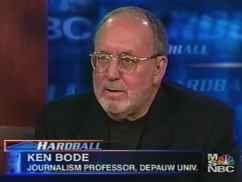 May 16, 2005, Greencastle, Ind. -

[Download Video: "Still Dancing" - 3121kb] "It looks pretty much like Newsweek got hustled on this one," DePauw University's Ken Bode told Chris Matthews on MSNBC's Hardball tonight. Bode, Eugene S. Pulliam Distinguished Visiting Professor of Journalism at DePauw, discussed Newsweek's retraction of a May 10 report, in which the magazine claimed that American guards at Guantanamo Bay desecrated the Muslim Holy Book, the Koran, by flushing it down a toilet. The story, based on information from an unnamed source, sparked protests in Afghanistan and Pakistan that resulted in the deaths of more than 15 people.
"They're still dancing," Dr. Bode says of Newsweek's editors. "They haven't told us enough yet. They said, well, we regret any part of the story that we got wrong. We don't know what we got wrong. We apologize for unspecified errors and so forth. This was a very bad one. And it is,
again, based on unidentified sources, which again piles on that big problem in American journalism. The problem with this unidentified source is, there are 16 people dead. We've got an uprising in Afghanistan. And we really need to look at the use of unidentified sources when they lie to you, when they use you."
Bode, formerly senior political analyst for CNN, NBC News correspondent and former host of PBS' Washington Week in Review, believes the retraction and apology "should have been the cover story of Newsweek... this week" and the magazine should identify its source for the story

[Download Video: "Prof. Bode on Newsweek's Response" - 1145kb]. He told the MSNBC program,

[Download Video: "Unidentified Sources" - 1749kb]"when I was practicing journalism at NBC News, there were certain rules about unidentified sources. You had to tell your editor who that source was, why he was in a position or she was in a position to know... Did that person have an interest in getting this information

out? And then you could use those three pieces of information to go get confirmation. Newsweek didn't follow those rules at all."
Ken Bode, who was inducted into the Indiana Journalism Hall of Fame last month, writes regular op-ed columns for the Indianapolis Star. His latest essays can be accessed here, here, here, here, here, here, here, here, here, here, and here.
Source: "Hardball"/MSNBC
Back