Time for Media to Rethink Policies on Unidentified Sources, Prof. Ken Bode Asserts
May 20, 2005
Also: Ken Bode on Hardball with Chris Matthews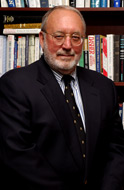 May 20, 2005, Greencastle, Ind. - "There is an old rule of journalism: If your scoop remains a scoop for more than 24 hours, you'd better go back and check your sources," begins Ken Bode's op-ed in today's Indianapolis Star. DePauw's Eugene S. Pulliam Distinguished Visiting Professor of Journalism continues, Newsweek magazine owned the story of American interrogators at Guantanamo tormenting Muslim detainees by flushing their holy book, the Quran, down a toilet... No other news organization could verify this story. Apparently no other journalist touched it until, in this wireless world, the charge made its way to Pakistan and then to Afghanistan, where it set off a wave of angry anti-American riots resulting in 17 deaths."
Bode notes that Newsweek retracted the story this week -- 15 days after it was published. The report was based on information from an unidentified source. "This adds fuel to a simmering controversy in major news organizations all over the country about using unnamed officials and relying on

single sources."
The veteran reporter continues, "In my 10 years as national political correspondent for NBC News, there were strict rules. If a source refused to go 'on the record,' the network demanded to know who he was, how he was in a position to have the information he offered and whether we would be advancing his political agenda by reporting the story. Then, without identifying the original source, we could use his information to seek a confirmation. Those standards may have slipped elsewhere. They certainly have slipped at Newsweek. There, the reporters never got an actual confirmation. Nor, apparently, did anyone address the question: How do you flush a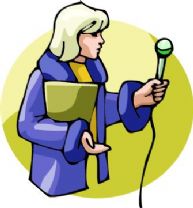 book down a toilet?"
Dr. Bode asserts, "Reporters and editors almost universally believe that when they agree to take information in return for a pledge of confidentiality, it is the professional equivalent of a sacred trust. However, this 'off-the-record' business has so thoroughly infused journalism that it is time for a re-examination. If Newsweek's unnamed source purposely misled the reporters then let the story stand until the riots in Afghanistan left 17 dead and more than 100 injured, the magazine needs to consider its obligations. If a source lies to you, I say the contract has been broken, and the magazine, newspaper or network owes it to its readers and viewers to reveal the name so all can better judge if it was a journalistic mistake or a purposeful effort to peddle false information."
In conclusion, Bode states, "It is sometimes necessary to take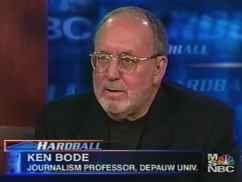 sensitive information on a not-for-attribution basis, as with a whistle-blower, for example. But in granting that privilege reporters need to be able to demand truth in return and to know that their news organizations will stand behind them and enforce that standard."
Read the complete column at College News.org. Other recent Star essays by Ken Bode, who was inducted into the Indiana Journalism Hall of Fame last month, can be accessed here, here, here, here, here, here, here, here, here, and here.
Ken Bode discussed the controversy over the Newsweek story Monday on MSNBC's Hardball with Chris Matthews. A story that includes video clips can be accessed here.
Source: Indianapolis Star
Back