Tim Collins '78 Leads $1.13 Billion Acquisition of Maytag
May 20, 2005
May 20, 2005, Greencastle, Ind. - "Led by well-regarded financier Timothy Collins," a 1978 graduate of DePauw University, Ripplewood Holdings LLC is making headlines today for its acquisition of storied appliance-maker Maytag Corp. The Wall Street Journal reports that Ripplewood "hopes to push the Maytag brands deeper into new foreign markets, Mr. Collins said in an interview, calling Maytag's foreign sales 'a diamond in the rough.'"
Under the $1.13 billion deal, Maytag, which is now publicly held, will be taken private by an investment group led by Ripplewood. "Removing Maytag from the public spotlight

will give the appliance maker critically needed breathing room to address big structural problems," the Journal says. Collins, founder and CEO of Ripplewood, is quoted in an Associated Press story describing Maytag as a "legendary company, with a portfolio of world-class brands and a long history of producing high-quality, innovative products."
The Journal's Dennis K. Berman and Michael McCarthy note, "Ripplewood has largely made its name abroad, scoring some huge wins in the Japanese banking and telecommunications sectors... Maytag, which introduced its first washing machine called the Pastime in 1907, became a household word during the long career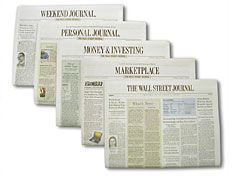 of commercial pitchman, Ol' Lonely, who hit the TV airwaves as the forlorn Maytag repairman 60 years later. The company still uses the uniformed serviceman in advertisements in newspapers and elsewhere."
Access the complete story at the Wall Street Journal's Web site (a paid subscription is required), and read the AP article here.
Tim Collins, who will receive an honorary degree at DePauw's Commencement Sunday, was recently profiled in the Financial Times of London. Read more in this previous story.
Back