Rain Chance Now 40% for Sunday's 166th Commencement
May 21, 2005
Visit the 2005 Commencement Web Site; Greencastle Weather Forecast; Order Your 2005 Commencement DVD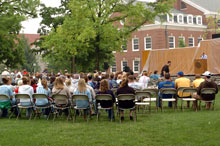 May 20, 2005, Greencastle, Ind. - As the clock ticks toward tomorrow's 166th Commencement at DePauw University, the forecast (as of 8:10 p.m. Saturday) now calls for a 40% chance of scattered thunderstorms for the day, and some could be severe, with a high temperature of 77 degrees. "We're monitoring the radar, and will continue to do so through the weekend," says Doug Cox, director of campus safety. "From past experience, we know the forecast can change very quickly, however, it is dismaying to see the chance of rain, which was 30%, increasing," Cox says. Get the up-to-the-minute Greencastle weather forecast by clicking here.
The ceremony is scheduled to take place on the lawn of historic East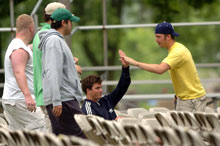 College at 1 p.m. In the event of inclement weather, commencement will be moved indoors to the Lilly Center. Five hundred and sixteen students will graduate. Friday morning, overcast skies greeted DePauw's Class of 2005 as they gathered on East College lawn this morning for a run-through of Sunday's ceremonies.
Saturday's weather was the picture of perfection. The forecast, which proved to be correct, was for mostly sunny conditions and no chance of precipitation, with a high of 76°. Earlier in the week, the prognosis was for partly cloudy skies on Saturday and a 20% chance of rain.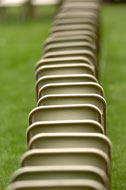 Sunday, the graduates will hear from Eric Schlosser, author of the national bestseller Fast Food Nation, whose speech is entitled, "Freedom." Schlosser will be among five individuals -- including three alumni of DePauw -- who will receive honorary degrees.
A DVD of 2005's Commencement will be produced. Learn more about the disc and pre-order copies by clicking here.
For comprehensive commencement information, including schedules and links to other important information, click here.
Back