"Never Hesitate to Speak Out" and Fight for Right of Others to Do the Same, Eric Schlosser Urges DePauw's Class of 2005
May 22, 2005
Also: Text of Eric Schlosser's Address; 516 Receive Diplomas at 166th Annual Commencement; Visit Photo Gallery; Five Receive Honorary Degrees; Order Your 2005 Commencement DVD
May 22, 2005, Greencastle, Ind. -

[Download Video: "Never Hesitate" - 677kb]

[Download Audio: 178kb] "I hope all of you will never hesitate to speak out," investigative journalist and author Eric Schlosser told the 516 students who graduated from DePauw University this afternoon. "And I hope you will always fight for the right of others to speak out, even if you don't like them and even if you don't like their views."
Schlosser, whose Fast Food Nation spent more than a year on the New York Times bestseller list, delivered the keynote speech at DePauw's 166th Annual Commencement, entitled "Freedom." In his view, freedom is under siege -- in business, with more power in fewer hands; and in government, which he says, has broader leeway to investigate and conduct covert surveillance on Americans than ever before. He told the crowd that filled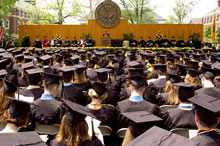 East College lawn that both Democrats and Republicans are responsible for the conditions that exist today.

[Download Video: "Biggest Threat" - 577kb] "But today, the biggest threat to freedom -- not just in the United States, but throughout the world -- is fanaticism. Everywhere fanatics are gaining influence," Schlosser says, noting that we're seeing the rise of a movement which Eric Hoffer wrote of fifty years ago in his book, The True Believer.

[Download Audio: "True Believers" - 188kb] "It describes the mindset of fanatics: of Nazis and Marxists and religious crusaders who believe that they have unique access to the truth. Who believe that the world must be remade in their image."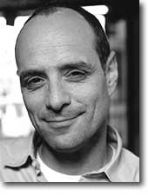 Schlosser, who has been called "society's quiet crusader," continued,

[Download Audio: "Reason" - 408kb] "Reasonable people can disagree in good faith, but today we are facing a severe shortage of reasonable people. In their place is the true believer. Facts don't matter to the true believer. Other people's views don't matter to the true believer. The fanatic is mentally cocky, Eric Hoffer pointed out, and at the root of his cockiness is the conviction that life and the universe conform to a simple formula: his formula."
A graduate of Princeton University, Eric Schlosser has been a correspondent for the Atlantic Monthly since 1996. A regular guest on network television news programs, Schlosser is featured on the recent DVD release of Supersize Me and is currently at work on a book about the American prison system. Plans for a motion picture based on Fast Food Nation were just announced. The author, who delivered The Timothy and Sharon Ubben Lecture at DePauw in November 2003, was selected by a
committee largely composed of DePauw seniors to deliver the keynote address.
Schlosser says bipartisanship has been replaced by bickering, finger pointing and name-calling on Capitol Hill, and in American life.

[Download Audio: "Freedom Under Siege" - 463kb] "On television and on the radio, words like 'traitor,' 'war criminal' and 'anti-American' are used to describe political opponents. On campus, political correctness and the fear of controversy threaten free speech. Students are being encouraged to spy on their teachers, and legislation on behalf of quote -- academic freedom -- unquote, promises to bring government monitoring into the classroom," Schlosser stated. "Now that idea has been tried before: by the communists in China and the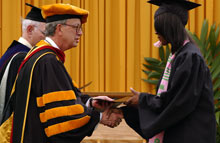 Soviet Union, and it didn't improve anyone's education much."
Thomas Jefferson, Schlosser reminded his audience, was the first to argue for a total separation of church and state in the Bill of Rights as well as freedom of religion and the press and freedom of commerce against monopolies, among other things.

[Download Video: "Jefferson Today" - 1552kb]

[Download Audio: 776kb] "If Thomas Jefferson were alive today, I have no doubt that some radio talk show host would call him a traitor. Freedom is never important to the majority in power; it's important to everyone who disagrees with the majority. It's important because the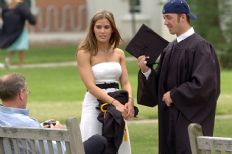 majority often proves to be wrong," he asserted.

[Download Audio: "The Emergence of Truth" - 213kb] "We must protect the right to seem stupid, to seem foolish, to seem wrong," Schlosser told the seniors moments before they received their diplomas. "Because the truth will finally emerge not from the mouth of one great leader, but from the conflicting opinions and the honest debate of people like you." The address was followed by lengthy applause. Access the complete text of the speech by clicking here.
Eric Schlosser was among five individuals -- including three alumni of
DePauw -- who received honorary degrees today. Another story on today's ceremony can be accessed here.
A professionally replicated DVD of this year's commencement will be produced. Learn more about the disc and order copies by clicking here.
For comprehensive commencement information, including schedules and links to other important information, click here.
Back