Prof. Jeff McCall '76 Offers Suggestions on How Parents Can "Take Control" of Childrens' TV Habits
May 22, 2005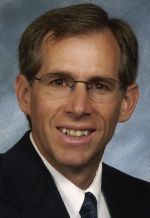 May 22, 2005, Greencastle, Ind. - In today's South Bend Tribune, Alecia I. Redding explores a new campaign by the cable television industry and includes the analysis of a DePauw University professor. The cable industry is running public service announcements, advising parents of children to: "Take Control. It's Easy." The spots recommend that parents use devices like the V-chip to restrict their childrens' access to programs Mom and Dad deem objectionable.
Redding writes, "this new campaign comes across a bit like advocating that you 'Just say no' to bad TV. Which is where Jeffrey M. McCall comes in. McCall, professor of communication at DePauw University in Greencastle, Ind., says such misguided solutions as this campaign and last month's 'TV Turnoff Week' are great 'public relations gestures' that capture your attention. However, 'They don't change the way that people watch TV,' he says. 'Simple solutions seldom work for complex problems.'"
The writer notes, McCall, a 1976 graduate of DePauw, "believes that it isn't TV, or even specific programs, that are harmful. It's the improper way we use TV that is the problem." Dr. McCall tells the newspaper, "The bigger message should be 'Think about the kind of shows you should be watching.'"
Redding says the professor offers an "original" solution to the problem. "Instead of placing the responsibility entirely on parents or the cable industry, he thinks both sides should play a part in addressing this problem. For parents, that means looking at the issue of access. 'I'll ask the students in my class to count the number of working TVs in their homes, and some kids are counting on both hands -- up to seven or eight TVs. They're even in bathrooms.' He says that parents need to send a message by taking the set out of their children's rooms and "selling it at your next garage sale." And the cable industry could do its part by offering a la carte options, where you pay for and
receive only the cable channels you want. 'That's how parents could really 'take control,'' he says."
Read the complete article at the newspaper's Web site.
Jeff McCall is frequently quoted on media matters. He appeared earlier this month in Colorado's Aspen Daily News, was cited in an April 28 story on CNN.com, and had an op-ed on "TV Turnoff Week" published in several newspapers across America that same week.
Source: South Bend (Ind.) Tribune
Back