Bondi finishes second in Division III in three-set match
May 23, 2005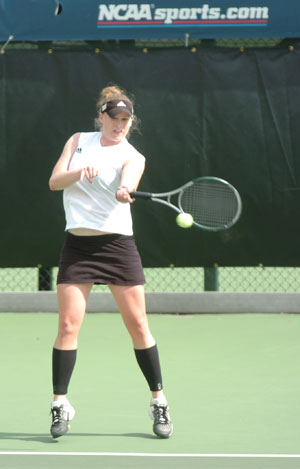 May 23, 2005, Kalamazoo, Mich. - DePauw junior Liz Bondi won the first set in her NCAA Division III Singles Championship match, but Washington & Lee's Lindsay Hagerman rallied to take the final two and win 5-7, 6-3, 6-2.
"She really had a good game plan," Bondi said of Hagerman. "I'll just have to use this experience for the future."
After winning the first set, Bondi took a 1-0 lead in the second and only trailed 4-3 while serving, but Hagerman broke her serve and won the next game as well.
Bondi fell behind 1-0 in the third set and the two battled through seven deuces before Hagerman won the second point to take a 2-0 lead. Each held their serves over the next three games with Bondi winning the fifth game on an ace to cut Hagerman's lead to 3-2. The Washington & Lee senior, however, did not lose a point the rest of the way in claiming the national singles title.
Bondi finished the season with a 34-3 record with two of the three losses coming to Hagerman.
Back